Announcing the 2016 Women's Day of Prayer: Women as Caregivers: Spiritual, Pastoral and Practical Matters
ANNOUNCEMENTSunday, 06 March 2016, 12:01
Once again, the Ukrainian Catholic Archeparchy of Philadelphia, in partnership with the Sisters of the Order of St. Basil the Great, the Sisters Servants of Mary Immaculate and the Missionary Sisters of the Mother of God will be sponsoring the 2016 Women's Day of Prayer. Developed by the members of the Philadelphia Archeparchy's Committee for the Enrichment of Women, the theme for the 2016 Women's Day reflects the Committee's Mission to offer women of all ages an occasion to grow spiritually and deepen their faith; to expand their social consciousness and their understanding of the social issues and problems facing today's women and families; and to nurture their personal development through various opportunities for enrichment.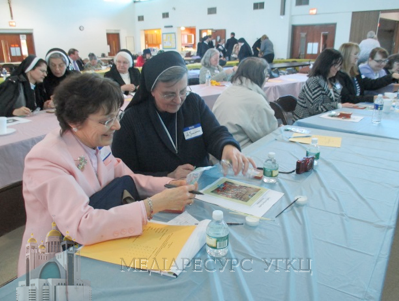 Last year, the Archeparchy's Women's Day of Prayer was held regionally at St. Nicholas Ukrainian Catholic Church in Passaic (New Jersey Deanery) and at Presentation of Our Lord Ukrainian Catholic Church in Lansdale, Pennsylvania (Philadelphia Deanery). Attendance at both parishes was among the highest when compared to that of past Women's Days; and the participant evaluations were nearly unanimous in giving the highest marks for the theme (Faith and the Family), setting (at the local parish) and program content (presentation and closing ritual).
Continuing in this same fashion, the 2016 Women's Day of Prayer will be presented in the Archeparchy's Washington and North Anthracite Deaneries at the following locations:
Sunday, March 6, 2016 at the Ukrainian Catholic National Shrine of the Holy Family 4520 Harewood Road, Northeast Washington, D. C.
Sunday, April 24, 2016 at St. Vladimir Ukrainian Greek Catholic Church 430 North Seventh Avenue Scranton, Pennsylvania.
The Day will begin with Divine Liturgy at 10:30 a.m. Lunch, a formal program presented in English and a closing ritual will follow. The Day will conclude by 4:00 p.m.
As the 2016 theme suggests, the program will focus upon the pastoral and practical aspects of caring for family members with special needs due to chronic illness, disability and/or advanced age and will be presented within the framework of Sacred Scripture and the values and ideals of Eastern Christian Spirituality. Additionally, suggestions as to how caregivers may provide spiritual, pastoral and practical "self-care" will be offered.
Our program will be presented by Sister Joann Sosler, OSBM, Assistant Provincial for Jesus, Lover of Humanity Province of the Order of the Sisters of St. Basil the Great, and Ann Stefanic, a parishioner of Presentation of Our Lord Ukrainian Catholic Church in Lansdale, Pennsylvania. Sister Joann's presentation will address the pastoral aspects of caregiving. Ms. Stefanic's discussion will focus on the importance for caregivers to be mindful of their need for self-care.
Sister Joann holds a certificate in Clinical Pastoral Education (CPE). Her studies for this professional designation have provided her essential skills which enable her to contribute to the biophysical, psycho-spiritual and socio-relational healing of individuals and community. Sister Joanne has gained much practical experience in this area through previous service as chaplain at Jeanes and Abington Hospitals.
Ms. Stefanic has cared lovingly for both her mother (during her mother's later years) and her brother who, throughout his lifetime, struggled with the effects of a chronic, disabling disease. She will offer first-person insight into the rewards and challenges she experienced during her years as caregiver for these members of her family.
We cordially invite you to participate in the 2016 Women's Day of Prayer. An offering of $10 is suggested to help defray the cost of lunch.
For more information, please contact Sr. Dorothy Ann Busowski, OSBM, at 215-379-3998. Please plan to attend … and to bring a friend!
Source:http://www.stbasils.com/
MEDIA