Transfiguration through God's Love – Opening of an All-Ukrainian Exhibit-Contest of Art Works by Prisoners
ANNOUNCEMENTFriday, 09 August 2013, 23:11
An exhibit-contest of art works by prisoners, Transfiguration through God's Love, opens on August 10th at 11 am in the art gallery of Ivan Honchar Museum in Kyiv (19 Lavrska St.).
The goal of the exhibit is to enhance a social dialogue and the process of integration of our co-patriots who have found themselves in places bereft of freedom as well as to use this opportunity to familiarize the general public with the harvest yielded from the cooperation between the Church and the State Penitentiary Service of Ukraine in terms of returning these people to society.
The exhibit is under the patronage of UGCC Head His Beatitude Sviatoslav (Shevchuk), and will last until August 26th. It contains some 200 works from the penitentiary institutions of all regions of Ukraine.
A jury consisting art specialists, theologians, former prisoners, social activists and children will announce the contest winners and prizes on August 19, 2013. Also close to 30 works from the national contest will be included in the international exhibit of art works by prisoners in Freising (Germany) and the rest of the exhibit will travel around the country over the next three years.
After the contest, all participants without exception will receive a Thank You Certificate and a personal notebook with audience comments. The prize fund for the contest awards is compiled from charitable donations of donors.
Organizers: UGCC Prison Ministry; Charitable Fund Caritas; State Penitentiary Service of Ukraine; Andrey Sheptytsky Fund, National Union of Artists of Ukraine, Ivan Honchar Museum.
Contact Person: Hierarch Kostiantyn Panteley, cell: 097 151 64 35;
e-mail: panteley@ukr.net
Reported by Rev. Konstiantyn Panteley
UGCC Department of Information
PUBLICATIONS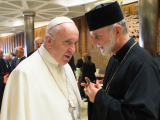 An unprecedented event took place in Rome on July 5-6. Desiring to demonstrate support for the Ukrainian Greek-Catholic Church at a time of...
MEDIA