Bishop Cornelius (Pasichnyi), ministered Eparch of Toronto (Canada) reposed in God
Tuesday, 04 February 2014, 13:58
On Thursday, January 30, 2013 in Toronto (Canada) reposed in God in the 87th year of his life, 71st year of monastic vocation, 61st year of priesthood, and the 18th year of episcopate of blessed memory Bishop Cornelius Ivan (Pasichnyi), OSBM, ministered Eparch of Toronto Ukrainian Catholic Church in Canada.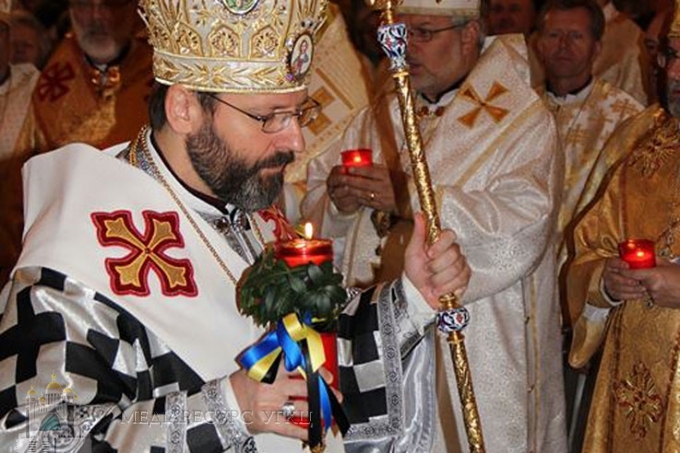 Bishop Cornelius was born in Winnipeg, Manitoba (Canada) on March 27, 1927, the son of Stefan and Anastasia (Kruk). His elementary schooling occured at St. Nicholas School (now the School of the Immaculate Heart of Mary) in Winnipeg. In September 1942 he entered the novitiate of the Basilian Fathers in Mundare. He got the secondary education in the Basilian Scholasticate in Mundare and Grimsby, Ontario, in the years 1944 – 1948, studied philosophy in Glen Cove (USA) and theology at the Pontifical Gregorian University in Rome. He made his perpetual vows on October 31, 1948 and was ordained to the priesthood in Rome July 5, 1953 by Archbishop Ivan Buchko.
Having got further degrees in Canada, from 1956 to 1958 he taught philosophy to the Basilian students in Mundare and was a pastor of the parishes in Krakow. From 1958 to 1959 he was the interim pastor of St. John the Baptist church in Ottawa and taught philosophy at the University of Ottawa. From 1959 to 1963 he was the vice-ihumen of the monastery in Mundare, taught Latin and history of Ukraine to the Basilian students. He performed various prior services in the Most Sacred Heart Province of the Basilian Fathers in Canada, was an editor of «Beacon» and worked in the parishes and missions.
In November 1995, the Blessed Pope John Paul II appointed Fr.Cornelius Pasichnyi Eparchial Bishop of the Ukrainian Catholic Eparchy of Saskatchewan in Saskatoon.
He was ordained a Bishop on January 17, 1996 by His Grace Metropolitan Mykhailo Bzdel along with their Excellencies Bishop Vasyl Filevych and Bishop Severian Yakymyshyn.
In three years Blessed John Paul II appointed him Eparchial Bishop of Toronto and Eastern Canada. In 2003 Bishop Cornelius received his abdication because of age limit.
As an Emeritus, Bishop Cornelius returned to the Basilian community, residing at the Monastery of St.Basilian Fathers in Toronto and continued his pastoral work, was a co-editor of the periodical "Svitlo" (The Light).
Grant, O Lord, rest for your servant of God – Bishop Cornelius and may his memory be eternal.
PUBLICATIONS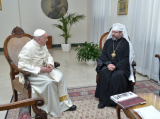 3 July at 10:00 AM, at Casa Santa Marta in the Vatican, Pope Francis met with His Beatitude Sviatoslav. The meeting was held at the request of the...