His Beatitude Sviatoslav calls to contribute to a special charity collection for Ukraine
Sunday, 17 April 2016, 10:58
Most reverend and honorable priests of the Ukrainian Greek-Catholic Church! Glory to Jesus Christ!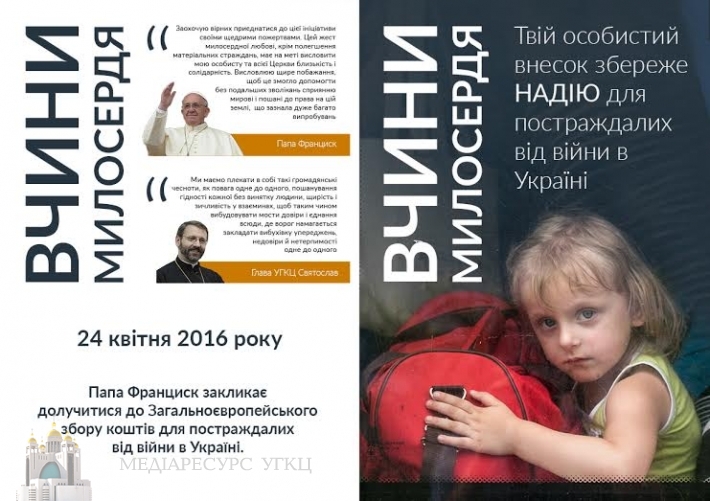 Dear fathers in Christ,
As you already know, the Holy Father Francis, Supreme Pontiff of Rome, expressing his care and solidarity with Ukrainian people who suffer from a military aggression, invited all faithful to join in favour to contribute to the collection in all Catholic Churches in Europe on Sunday, April 24.
The Pope appealed for this action on Sunday of God's Mercy, April 3, 2016, particularly saying: "My thought is directed to all those people who thirst for reconciliation and peace. I am thinking mainly of the many who are suffering the effects of violence here in Europe. I am thinking of the ordeal of those who suffer the consequences of the violence in Ukraine: those who continue to live in lands that are seized by hostilities, having caused so many deaths and above millions of those who were forced to leave due to the grave situation that continues so far. It primarily concerns elderly people and children. Besides accompanying them constantly with my prayers, I have decided to initiate a special charity collection to support them. Aiming at this, on Sunday, April 24 in all Catholic Churches in Europe will be possible to join in favour of this initiative. This act of a merciful love, despite alleviating material suffering, aims to express my personal closeness and solidarity of the entire Church. I am expressing my profound hope so that it might help to promote peace and respect for rights in that "exhausted land".
Accepting with a deep vulnerability and sincere gratefulness this parental act of the Holy Father, I am inviting all priests and faithful of the UGCC to actively contribute to the collection on Palm Sunday, April 24, according to practical recommendations and orders of eparchial bishops. Charity collection for humanities support will be taken up in Ukraine and West Europe – on appeal of the Holy Father, as well as at our request – in all Greek-Catholic parishes of North and South America together with Australia. Collected money will become our church contribution into the universal work of mercy for the suffering brothers and sisters in Ukraine.
May God take every contribution, made with love and reward every benefactor handsomely in this world and eternal bliss and in future!
May the blessing of God be upon you!
+ Sviatoslav
PUBLICATIONS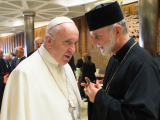 An unprecedented event took place in Rome on July 5-6. Desiring to demonstrate support for the Ukrainian Greek-Catholic Church at a time of...