The Address of His Beatitude Sviatoslav, the Head of the UGCC on Occasion of Meeting with Holy Father
Friday, 27 February 2015, 11:21
I wail with anguish of heart. My Lord, my deepest yearning is before you (Ps. 38, 9-10). These words of a psalm-singer express the deepest feelings of pastors of our Church who with their filial respect and gratitude accepted the invitation of Your Holiness to arrive to Rome with a pilgrimage to the tombs of supreme apostles, and to go through this saving community of our Church with saint Peter's Successor.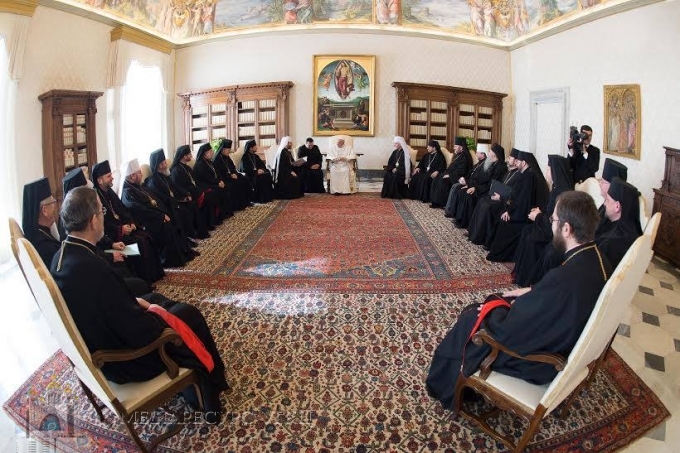 Commenting on words from psalm about craving of the heart, Saint Augustine declares: "If your desire is in front of Him, Father, Who sees in mystery, will listen to it". (St. Augustine about 37, Psalm 37, 13-14). Our desires during this pilgrimage are to present You, Holy Father, mourning, pains and expectations, which Holy Spirit in the hearts of our people changes into the everlasting praying for peace and for ending of the violence in our beloved Motherland.
Ukraine is a victim of an open aggression from a neighboring country. It suffers from terror of war that was put over it from the outside but not for the reason of the inside civil conflict. Millions of innocent victims of this unjust war call to God in their hearts, begging for justice and solidarity. And this mourning of their pain is lifted to God every day and night!
According to UN statistics, over a million of migrants and refugees reside today in Ukraine, however exact amount is twofold. At least 600 000 of refugees are at the territories of other countries. Among those who were made to leave their homes, over 140 000 are children. In accordance with a reliable data, nearly 6000 of a civil population died, among them 60 children. 12500 are wounded, among whom 160 are children. In climate conditions of Ukrainian winter this state has been changed into humanities catastrophe, which has not been seen in Europe since World War II.
But all Ukrainian society is wounded, for even when body does not have wounds from the armed conflict, it will hurt badly human's spirit, leading to the effect that psychologists call the syndrome of "posttraumatic stress disorder" – the scourge that has become everyday pastoral realities in our communities. If we don't intervene, it will cause to victims more than missiles of Russian industry.
In this hard and extreme situation that is getting worse our Church became a "field military hospital". Everyday more than 40 000 of people receive all necessary help in our centres of "Caritas Ukraine", having an opportunity to be provided with a service from the Church and feel that God loves and always remember about them. Our parishes, monasteries, eparchial communities became the centres of ongoing prayer, centres of accepting and servicing to the fellows, a volunteer centres, where in accordance with a state statistics, nearly 80% of population have already taken part in. All of our structures, which are being developed in Ukraine with your help, Holy Father, give our bishops a possibility to proclaim the Gospel bravely and often among affliction, care about all souls in need in their pastoral and ecumenical service, as well.
Ukrainian society "opened their door to the Church", they want to hear her voice because they feel that only Churches give the light of hope and are reliable support in the world, which seems to fall into pieces, considering this situation of confusion and disorientation. Every word said by Heads of a Christian Churches is listened attentively and seriously, accompanied with deep thoughts, turning into common action. We feel that God in these tragic circumstances opens to us mysterious ways of evangelization, revealing to a modern man that exactly Christ Church is a real Mother and Teacher.
Your Holiness!
On behalf of Ukrainian Greek-Catholic Church, presented here with her pastors and on behalf of all Ukrainian people who with a great consideration watch our visit, we want to express our sincere gratitude to you, Holy Father for your paternal care of our Church and whole country. With all our heart thank you for being a voice for those who are suffering in Ukraine, voice that awakes Christian consciousness in the whole world. Thank you for a constant praying that accompanies us, reminding that Lord always stays at the side of those who are humble and those suffering ones, but not those who are powerful.
Your Holiness!
We brought you the deepest wish of our heart that turned into a prayer. We present you an invitation from orthodox and catholic Christians, all people of a good will, to visit Ukraine when an opportune moment will come! "How beautiful are the feet of him who brings glad tidings, announcing peace" (Isaiah 52, 7), - the prophet says. We are confident that your visit will bring peace into this east part of Europe, which is designated with blood of numerous martyrs for Church unity. It was a prophetic action to testify the power of prayer and Christian solidarity that could give us courage and hope to build a better future to everyone.
Holy Father, bless us!
PUBLICATIONS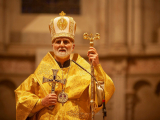 TUESDAY, JUNE 4 DURING HIERARCHIAL DIVINE LITURGY AT THE UKRAINIAN CATHOLIC CATHEDRAL IN PHILADELPHIA OVER 50 BISHOPS, WILL PARTICIPATE...