Ukrainian Catholics fearful of persecution Church leaders in region and in U.S. await next move after Russian forces take over Crimea
Friday, 28 March 2014, 14:44
Ukrainian Catholic Bishop John Bura and his flock are looking on with concern as tensions rise in Ukraine and as reports come in of Russian forces kidnapping priests and harassing Catholics in the Crimean peninsula.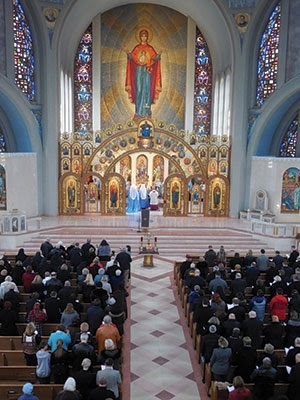 "We don't know what's going to happen. We're fearful, but we keep hoping and praying," said Bishop Bura, the head of the Eparchy of St. Josaphat, one of four Ukrainian Greek Catholic eparchial sees in the United States.
When the Russian Federation annexed Crimea in mid-March shortly after its forces invaded the peninsula, Bishop Bura told Our Sunday Visitor he was concerned about what could happen to the Ukrainian Greek Catholic Church — the largest Eastern-rite church in communion with Rome — since it has no legal recognition in Russia.
"We have millions of Ukrainian Greek Catholics in Russia, but our church is not recognized there," Bishop Bura said.
Historical context
The Ukrainian Greek Catholic Church — its adherents comprise about 10 percent of Crimea's 2 million inhabitants — went underground after the Soviet Union took control of Ukraine following World War II. The church was officially dissolved in a 1946 synod even though none of its bishops participated.
Under Soviet rule, the Ukrainian Greek Catholic Church's bishops and priests were arrested and sent to reeducation camps in Siberia. The church's properties were liquidated, either given to the Russian Orthodox Church, transformed into storage facilities or destroyed.
It was not until 1989, two years before the Soviet Union collapsed, that the Ukrainian Greek Catholic Church was allowed to function in the open.
Following the collapse of the Soviet Union, Archbishop Ihor Vozniak told OSV in an email exchange that the Ukrainian Greek Catholic Church was "developing" in Crimea, although not without difficulties. In the city of Yalta, for example, church leaders ran into obstacles to obtain property and build a church.
"We didn't acquire the considerable property (in Crimea) due to the fact that the local government used to obstruct the construction of the churches, and didn't let our communities get the land lot for the building of the churches as well."
"It's a sad history," said Father Mark M. Morozowich, a Ukrainian Catholic priest and dean of the School of Theology and Religious Studies at the Catholic University of America.
Commenting on recent troubling headlines emerging from Crimea, Father Morozowich told OSV: "I find it shocking in the 21st century that this kind of behavior is going on, that there continues to exist this kind of intolerance.
"Will Russia allow the minority Catholic community in Crimea to have a right to exist and recognize it as a legal church? That's the big question I have yet to see answered," Father Morozowich said.
A day before the controversial March 16 referendum in Crimea, in which more than 90 percent of voters decided to leave Ukraine and join Russia, Father Mykola Kvych, a Ukrainian Greek Catholic pastor and Navy chaplain, was kidnapped after celebrating a memorial prayer service for the dead. The next day, two more priests in Crimea were also reported missing.
Later that night, all three priests were found to be alive, with Father Kvych telling Vatican Radio and other media outlets that Russian intelligence officers and Crimean forces had interrogated and accused him of arming the Ukrainian Navy and inciting anti-Russian riots. Father Kvych said parishioners helped him escape to the Ukrainian mainland.
There have also been several reports of churches being vandalized in Crimea and one priest's home having "get out Vatican spies" spray-painted on his home.
Present danger
Yevgen Gulenko, a subdeacon in the Eparchy of St. Josaphat, told OSV that his family in Kiev, in mainland Ukraine, is also worried about what could happen next. Gulenko said a high school classmate recently showed him a picture of himself in military uniform and said he was preparing for war.
"My dad is really worried. There is definitely an amount of uncertainty about the next move from Russia because they are very imperialistic and we don't think they will just stop in Crimea. As far as I know, the Ukrainian military is in full preparedness for the worst possible outcome," Gulenko said.
Archbishop Stefan Soroka, head of the Ukrainian Catholic Archeparchy of Philadelphia and the metropolitan of the Ukrainian Greek Catholic Church in the United States, told OSV that the Church in Crimea has been experiencing the intolerance that Catholics in Russia have been dealing with for several years.
"The regime in Russia is very intolerant of differences, and the Greek Catholic Church is made out to look like the awful enemy, with awful accusations of being fascist and pro-Nazi," Archbishop Soroka said.
"It's sad because these are people who have suffered a great deal."
Uncertain future
Archbishop Soroka added that it is very likely in the near future that there will be more acts of intimidation targeting Catholics in Crimea.
"Our brethren will be threatened and made to not feel welcome," Archbishop Soroka said. "The kidnapping of priests is a message to other priests and the whole Ukrainian Greek Catholic community in Crimea that, 'You're not going to have a welcome environment here so maybe you should pack up your bags and get out of here.'"
Father Morozowich said people in mainland Ukraine also fear further disruptions with Russian military exercises occurring right across the border.
"They are thinking, 'Will (Russian forces) be coming to their village tomorrow?' Will there be more uniformed men with no insignia or with their badges covered that give no identification to who the soldiers are?" said Father Morozowich, who added the Crimean Tatars and other minorities could also face hardships under Russian rule.
"I certainly hope for a better tomorrow, and I hope for a better world, a world that is willing to recognize and is willing to grant freedom to people who have minority views," Father Morozowich said.
Bishop Bura told OSV the most important thing the Catholic community can do for the beleaguered church in Crimea is to pray and inform people about the situation.
On March 16, Archbishop Soroka celebrated a special prayer service for peace in the Ukrainian Catholic Cathedral of the Immaculate Conception in Philadelphia with Archbishop Charles J. Chaput of the Archdiocese of Philadelphia and Archbishop Antony, metropolitan of the Ukrainian Orthodox Church in the United States.
"We need to continue to help, to gather people to pray and make them aware of what is going on, in particular to bring out into the light these acts of intimidation and oppression," Archbishop Soroka told OSV. "It's my hope and prayer that there will be people of good will who will say, 'This is not who we are. This is not the way to treat people, especially in matters of faith.'"
Archbishop Vozniak also said Catholics can support the Church in Ukraine by praying and speaking out against the Russian occupation.
"I think Russia will not invade the rest of Ukraine, which could result in big war," Archbishop Vozniak said. "Crimea would be sufficient, I guess. Russia is a big country and the government has a lot to do in order to provide the citizens with the better quality of life. ... After all, the history teaches us that the big empires always collapsed sooner or later."
Brian Fraga writes from Massachusetts.
PUBLICATIONS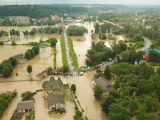 Your Graces and Excellencies, Very Reverend and Reverend Fathers, Venerable Brothers and Sisters in monastic and religious...