Video-message of His Beatitude Sviatoslav. July 23. 150 th day of the war
Saturday, 23 July 2022, 15:06
Glory to Jesus Christ! Dear Brothers and Sisters in Christ!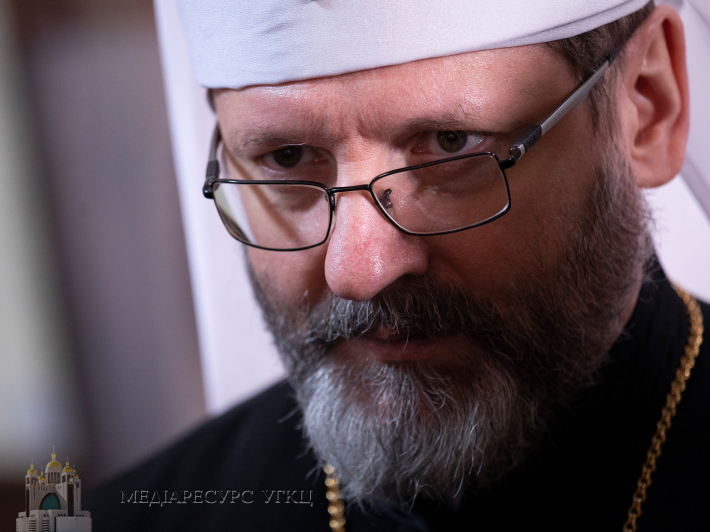 Today is Saturday 23 July 

2022

, and the Ukrainian people are already in an unequal struggle against the Russian attacker for the 150th day. This terrible war, which Pope Francis called a sacrilegious war, has been going on for 150 days. It is a war, which, unfortunately, every day brings Ukraine new victims, new destruction, new daily trouble.

During the last hours, two martyr cities became the epicentres of Russian missile attacks again: Kharkiv in the north of Ukraine and Mykolayiv in the south. The city of Kropyvnytskyi, the city of Kryvyi Rih, and the city of Nikopol were hit by rockets. Thus, the east and south of Ukraine is on fire. The Ukrainian land trembles. But the most intense battles are still taking place in the Luhansk region and in the north of the Donetsk region. The cities of Kramatorsk, Slovyansk, and Siverskyi Bakhmut, which you already know, are the epicentre where our enemy has gathered huge forces and is trying with all its might to storm Ukrainian positions. Again many people died, again innocent blood was sprinkled on Ukrainian black soil.

But Ukraine is standing. Ukraine is fighting. And Ukraine is praying.

And you and I continue our school of Christian prayer, which is an indispensable condition for the ability of the nation and man to overcome, to overcome in the battle with our enemy, in particular, the invisible enemy.

Today I would like to begin a series of reflections with you on what we need to pray for. Because Christian prayer differs from other religions precisely in that Christians never interpret God only as some distant, terrible, unknown absolute, and never try to manipulate Him. We know that various occult practices are nothing more than an attempt, with the help of some magic spells or formulas, to make God do the will of man. Therefore, this type of human behaviour, or even prayer, is considered unacceptable and sacrilegious by Christians. We can never use God in a consumerist way and interpret our relationship with Him as a way to get more for ourselves with the least responsibility, as is sometimes part of the consumerist culture in which the modern world lives.

What should we pray for? We read in the Holy Scriptures that sometimes we don't even know what we really need to pray for. The Holy Apostle Paul says that it is the Holy Spirit Who is our teacher of prayer, and He teaches us what to pray for, what are the most important blessings from the Lord God to beg for, and what we are to hope for. Eastern Christian spirituality, particularly of our Byzantine tradition, is very fond of so-called "manual catechisms." For example, when we make the sign of the holy Cross, we fold our fingers in such a way that we confess the one God in three persons, and the mystery of the Incarnation of Jesus Christ, His divine and human nature in one divine person.

But in the same way, when we talk about prayer, about what to ask in prayer, the Eastern Christian tradition says to turn to the human palm, because there are five fingers in our palm, and when we put them together, then we create a powerful fist with which one can overcome all of life's difficulties. There are also five types of prayer, the most basic with which a Christian should pray. These are: prayer of thanksgiving, prayer of repentance, prayer for others, prayer for one's own needs, and prayer of praise.

It is obvious that we should begin our personal prayer with a prayer of thanksgiving. It is precisely this that shows the uniqueness and peculiarity of purely Christian prayer. Because when we thank the Lord God, we profess our faith. The prayer of thanksgiving is a prayer of the Divine Liturgy, of this Eucharistic thanksgiving. The Apostle Paul says: "Whoever would draw near to God must believe that He exists and that He rewards those who seek Him" (Hebrews 11:6), and that prayer is a dialogue, not our monologue to our God. A prayer of thanksgiving is a very important beginning of any appeal to God. We should thank our God for all the gifts we have received from Him, known and unknown, both manifest and hidden. We must admit that we have nothing that we have not received, as the Apostle Paul tells us. Precisely in the prayer of thankgiving at the very beginning of our conversation with God, we should, as it were, present our consciousness back to God, our gratitude for everything we have already received, thank Him for the gift of creation and for the gift of salvation. And with those two types of thanksgiving, we confess our God as Creator and Saviour.

When we thank Him for the gift of creation, we thank Him for the fact that we live, that we have life, that we have breath, that the Lord God loves us, inspires us with His love, breathes with us, and therefore we can live with you. We read at the beginning of creation that the Lord God, having created man from the dust of the earth, breathed into him the breath of life, and he became a living soul. This sacrament of revival, the daily revival of you and me, keeps us alive.
We must thank the Lord God for the gift of salvation that we received from His Son, which works in us by the power and grace of the Holy Spirit. For all the sacraments we received in His Holy Church, for all that we receive as our spiritual life precisely through the sacrament of salvation, which is revealed to us in the body of the Church, as a possibility of living access to God, communication with Him.

And each of us received many personal gifts through events that only you personally know about. And therefore thank the Lord God, as our Divine Liturgy says: "We offer to You Yours of Your own," our Creator. And then we will see that the Lord God has already given us much more than what we want to ask of Him today. Thanking God for life and salvation in the midst of the scourge of war and death is something that gives us hope and comforts us in difficult circumstances.

Today, with a prayer of thanksgiving, let us pray to our God—the Father, Son, and Holy Spirit—God the Creator and Saviour, giving thanks for the fact that we have lived to this morning. Thanking Him for the Ukrainian army, the girls and boys who shield us from bullets with their bodies, who protect our peaceful rest at the front. Let us thank God for the gift of the Ukrainian state, which is a necessary condition for the life and development of the Ukrainian people in the modern world. Let us give thanks for all that we have received and for what we are called to share with our neighbour.

O God, we thank You for being with us. We thank You for not leaving us, especially when it is most difficult for us. O God, we thank You that in the midst of death, in the midst of war, You are the God of life and hope. O God, bless Ukraine and all of us with Your life-giving blessing.

May the blessing of the Lord be upon you through His grace and love of mankind, always, now and ever, and for ages of ages. Amen. 

Glory to Jesus Christ!


PUBLICATIONS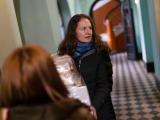 A year ago, the Head of the UGCC, Patriarch Sviatoslav, nominated Tetiana Stawnychy, the President of Caritas of Ukraine. After the...