You cannot make peace with someone who does not want peace
Thursday, 19 February 2015, 13:38
"Reconciliation - a mutual forgiveness. It happens in a very simple manner. We forgive and ask forgiveness. In short, it is an act of mutual forgiveness. This does not happen instantly. Certain steps are required. The first step is to realize that we hurt each other. It is not aI unilateral action to apologize because we have wronged someone else, and they are a victim of our wronging. Both sides must realize that they bear some fault that they suffered, but also caused suffering to the other. There can be no one-sided reconciliation, noted His Beatitude Cardinal Lubomyr Husar during the round table in Ukrainian parliament "Blessed are the peacemakers: the potential for reconciliation".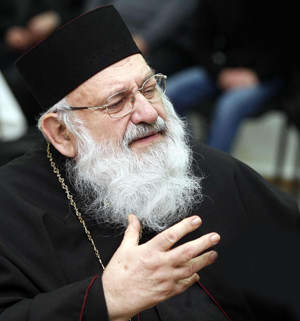 The precondition for reconciliation is to prepare for it. Reconciliation is not peace. It is a step towards peace. Peace comes between two persons, two communities, two nations, when they want it, on the grounds that they are spiritually prepared for it through an act of reconciliation "
"Can you come to terms with a terrorist? No, because he does not want it. It is impossible to reconcile with those who do not want peace, but we must pray for him .... We can pray that they do not blaspheme the Lord God, but not that things are easier for me."
"Today we are in a military confrontation with Russia, but we must take care to be reconciled with all our neighbors. Today we have a very difficult neighbor who is attacking us. But we must think beyond the present and politicians should consider the steps forward. We must consider and take care that such an act of reconciliation does not divide but unites us . This is a long-term program ... We must work where it is currently possible to do so, and where it is currently impossible, we should think what we must do so than in 10, 20,30 years, there can be a real reconciliation between us and the Russian people, and therefore true peace "
One example of a successful reconciliation process is the reconciliation between the Ukrainian Greek Catholic Church and the Roman Catholic Church in Poland. However, he expressed regret that a reconciliation between the Ukrainian Greek Catholic Church and the Russian Orthodox Church had not occured:
"In 1987 Patriarch Myroslav-Ivan Lubachivsky appealed to the leadership of the ROC and held-out a hand of reconciliation. There was no reply and his hand was left hanging in the air."
"I myself started a correspondence with a prominent figure in the Russian Orthodox Church. We exchanged letters and at a certain point I said, "Would not it be good if the ROC and the Ukrainian Greek-Catholic Church reconciled in some way and asked for forgiveness and forgive each other? The answer was: "We never did any harm to you, for which we need to ask for forgiveness." This ended our correspondence.
I think today there are very fews chance of any formal reconciliation. So, should we do nothing? No, we must avoid any gesture that aggravates relations, in order not to create obstacles but to eliminate them. We can not ignore the truth, but, at the same time that we speak the truth we must not encourage hatred.
Cardinal Husar
Translated by Rev. Athanasius McVay
PUBLICATIONS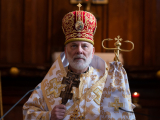 It will be necessary for many more years to assist Ukraine in its development, support people, and show them that God loves them. Bishop Kenneth...