"The history of your church clearly shows the world the possibility of the unity of Christ's followers," Cardinal Audrys Juozas Bačkis
Wednesday, 14 August 2013, 16:46
On the eve of his visit to Kyiv for the celebration of the 1025th anniversary of the Baptism of Rus-Ukraine, the special emissary of Pope Francis, Cardinal Audrys Juozas Bačkis, Archbishop Emeritus of Vilnius (Lithuania), responded to questions posed by UGCC Department of Information.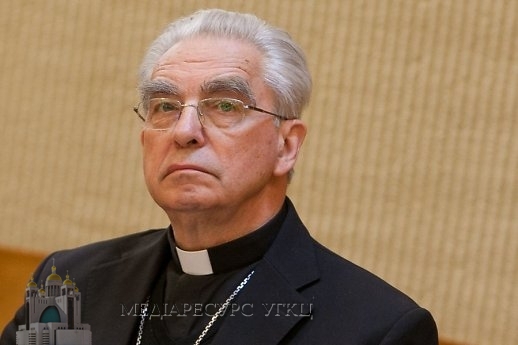 Your Eminence, Pope Francis chose you as his delegate for the celebration of the 1025th anniversary of the Baptism of Kyiv Rus.   What were the most important thoughts that the Holy Father expressed to you in the letter addressed to your Eminence on this occasion?
"As a special emissary of His Holiness Father Francis, the Pope of Rome and the Successor of St. Peter, I rejoice that I can be among you; that I can meet with the Catholic Church in Ukraine and bring to all of God's people His Fatherly Apostolic Blessing."
"In his letter, Magnopere Ecclesia in Ucraina [A Monumental Church in Ukraine] dated June 15, 2013, addressed to me, the Pope particularly notes the fact that the joyful commemoration of the Baptism of Kyivan Rus unites the whole large Catholic family – Greek-Catholics and Roman-Catholics with different Church rites. We are all called upon, to bear witness to unity in love, rejoicing in the common spiritual graces, since they are a gift from the Holy Spirit who 'gives them, dividing among all, that which he wants' (1 Cor. 12, 11).
Pope Francis accentuates unity in love, which should permeate our relationships and our daily life.  The Holy Father urges all priests, monks and nuns, and all faithful that through communal and renewed strength, they proclaim to the current society Christ's Gospel, that they experience joyfully the grace of the Baptism and that they express our faith through charitable initiatives and deeds." 
How important was the Act of Baptism of Kyivan Rus ?
"I think that today we should spiritually dive into the waters of the Dnipro River, thank God for the gift of Baptism, which tens of centuries ago gave life to the Church of Kyivan Rus and renew our Baptismal vows.  Baptism is a gift which grants us supernatural life and makes us children of God.  It is not a gift which is given to a special person, but through it we all become the body of the great family of God, that is, Christ's Church.
Through the Baptism of St. Volodymyr, Christ entered the history of the people of Kyivan Rus, permeating its culture.  Beginning in Kyiv, Christianity lit with its rays the neighboring lands and people where there developed Churches who also celebrate this great Jubilee and discover their spiritual roots in the Baptism of Kyivan Rus."
Your Eminence, what are Your wishes for the Christians in Ukraine, especially the faithful of the Ukrainian Greek-Catholic Church on the occasion of the celebration of the 1025th anniversary of the Baptism of Kyivan Rus?
"Christ glorified your Church not only through the testimony of the martyrs but also through a great many other signs, the most valuable of which is the being in union with the Successor of St. Peter to whom Christ entrusted his Church.  A triumphant affirmation of this existence in being in union was the Brest Union of 1596 when the hierarchs of the Kyiv Church proclaimed and acknowledged in the person of the Bishop of Rome the successor of St. Peter and the guarantor of this being in union of the only Church of Christ. Disregarding the historical caprices, the Ukrainian Greek-Catholic Church lasted and immovably remains today in union with the Bishop of Rome. The history of your Church clearly demonstrates to the world the possibility of the unity of Christ's followers, just as Christ prayed for it before his sufferings." 
"In thanking for the gift of Baptism, received 1025 years ago, I urge you to look with hope towards the future. This Jubilee coincides with the Year of Faith proclaimed by Pope Benedict XVI which the Catholic Church celebrates throughout the world.  The gift of faith should be preserved in its purity and strength; thus all of us are called to increase our efforts to know better the truths of faith, to live fully through this faith, listening and contemplating the Word of God, glorifying God in the Divine Liturgy and in private prayer, receiving the Holy Sacraments. In responding to the appeal of Pope Francis, let us exert efforts in order to fulfill the commandment of love to our neighbor which was left for us by Christ – a love which is the fruit of faith. Love and faith are the most precious gifts which we it is necessary to pass on to one's children. The Gospel of Christ, who resurrected and conquered sin and death, should be proclaimed to all: 'Go ye therefore, and teach all nations, baptizing them in the name of the Father, and of the Son, and of the Holy Ghost'  (Matthew 28, 19; Mark 16, 15)."
UGCC Department of Information 
MEDIA