Ukraine Rising
Friday, 14 November 2014, 16:03
"This is not only about us; this is also about you": a church leader on his country's struggle for freedom. By George Weigel
What are the most essential governmental reforms for the future of Ukrainian civil society?
Twenty years ago, there was a big debate in Ukraine over whether "civil society" really exists in our country. In the Soviet Union, the dictatorship of the Communist party suffocated both the lives of individuals and their right to undertake social initiatives. The Revolution of Dignity, by contrast, witnessed an explosion of civil society in Ukraine, and the Church was explaining the Christian idea of the source of state authority: Individuals and civil society delegate the right to govern to public officials through the mechanism of free, democratic elections. That is why there must be fundamental reforms in the electoral law in Ukraine. Public authorities are to serve civil society, not be served by it, and certainly not by manipulating the desires, fears, needs, and trust of our people. A Christian notion of social diakonia [service] ought to be at the foundation of the political culture and democratic institutions of a free country.

Is the task of uprooting the "culture of corruption" in Ukraine one that can be completed in a generation?
To be candid, I doubt it. For many generations, the corruption of politicians and state authorities was a means of subduing the people of Ukraine, and simple people acquiesced to that system in order to protect themselves against an oppressive state. We see the results of that today, when mothers pay bribes to military officials, asking them not to send their children into ATO (anti-terrorist operations) in Ukraine. It will take a long time to heal those moral wounds in our society and to convince Ukrainians that their country is a motherland that protects them and creates an environment that respects their dignity and fosters the development of their natural gifts. It will take a long time to convince state officials to understand that they are not the patrons of slaves but the servants of the common good.
How did Metropolitan Hilarion's intervention at the extraordinary synod of 2014 strike you?
I was disappointed and hurt because a high representative of a Christian church misinformed a synod of the Catholic Church. True ecumenism is supposed to be based on mutual respect and a sincere striving for the truth. In a time of foreign aggression against Ukraine, Christian hierarchs should be those who are apostles of peace and reconciliation, not those sent to attack.
How does your Church respond to the charge from the Moscow Patriarchate that it has been involved in "politics" over the past year?
Our response is our stance, and our cooperation with the churches of Ukraine in the last year. Our Church never was involved in Ukrainian politics, as many Orthodox were. We never supported any political party or politician. But we are and will be active in civil society.
Orthodox social doctrine does not make a clear distinction between civil society and political activity; Orthodox theory knows only the church–state relationship, not the church–society relationship. That is why Metropolitan Hilarion sees our work of evangelization and our service to civil society as "politics."

To those familiar with the history of the "Lviv Sobor," it seemed as if Metropolitan Hilarion was tacitly affirming that "council" as a genuine ecclesial act, although all competent historians regard it as an action directed by the NKVD. How do you briefly explain, to those who don't know the story, the sequence from the "Lviv Sobor" to today?
From the juridical point of view, the Lviv Sobor in 1946 was an instrument of oppression aimed at the liquidation of the Ukrainian Greek Catholic Church in the Soviet Union. Any attempt to present such a gathering as free and spontaneous, especially during the reign of Stalin, is simply a lie — and an act of injustice. For that "Sobor" was a gathering of Ukrainian Greek Catholic priests, led by Russian Orthodox bishops who forced those priests to abandon the Catholic Church.
From the ecclesiastical point of view, that "Sobor" was a harsh and brazen act of Orthodox proselytism, in which millions of Ukrainian Catholics were forced under fear of death, torture, and exile to join Russian Orthodox Church.

What are the most important things Ukraine's friends in the West can do for the country in the next six months? In the next year?
Ukraine is now facing foreign aggression, a kind of "hybrid war" involving a non-declared military invasion, serious economic pressure, and a huge campaign of disinformation. Ukraine is the victim of this aggression, and I would ask our friends worldwide, in the name of justice and Christian solidarity, to stand behind those who are oppressed in Ukraine. Be in solidarity with the nation that was oppressed for so many years and is now rising up to reclaim its dignity. Help us to defend freedom and democracy in Ukraine. Because in today's globalized world, this is not only about us; this is also about you. Help us spread the truth about the situation in Ukraine around the world. As Christians, we are convinced that the proclamation of Truth can be more powerful than weapons, and more liberating than any human power.
George Weigel is Distinguished Senior Fellow of Washington's Ethics and Public Policy Center, where he holds the William E. Simon Chair in Catholic Studies
PUBLICATIONS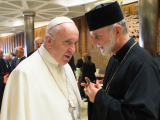 An unprecedented event took place in Rome on July 5-6. Desiring to demonstrate support for the Ukrainian Greek-Catholic Church at a time of...
MEDIA