11 warming-up and feeding centers of the ICF "Caritas Ukraine" commenced their work
Wednesday, 30 January 2013, 21:28
International Charitable Foundation "Caritas Ukraine" brought into operation its 11 centers for warming-up and feeding, and based them in their regional organizations in different regions of Ukraine ─ Kiev, Donetsk, Khmelnytskyi, Lviv, Ivano-Frankivsk and Ternopil. The centers for warming-up will both stationary and mobile. All regional organizations of the "Caritas Ukraine" have extensive experience of operation of the charity canteens and the provision of humanitarian aid, so for their low-income and homeless wards, the operation of heating centers is crucially important and well-timed.
In the heating centers, it is possible for the people in need to warm-up, to consume heated food and drinks, as well as, if it is necessary, to receive clothes and shoes and medical care. The provision is also made for the food delivery to the areas where the majority of homeless people gather ─ to the train stations and bus stations, near the temples, etc. Overall, Caritas plans to provide assistance to approximately 700 people each day.
Report made by Nadiya Chorna
PUBLICATIONS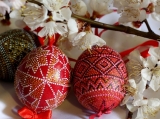 Christ is Risen! Indeed he is Risen! In the beginning was the Word, And the Word was with God, and the Word was God. All things came to be...
MEDIA