50TH ANNIVERSARY OF THE CATHEDRAL OF THE HOLY FAMILY IN LONDON
Thursday, 28 June 2018, 22:45
This year sees the 50th anniversary of the acquisition and consecration of the Ukrainian Catholic Cathedral of the Holy Family in London (28-29 June 1968). To mark the date of this jubilee, on 23rd June 2018 a Pontifical Divine Liturgy of thanks was celebrated, which was led by the Bishop of the London Holy Family Eparchy, Hlib Lonchyna.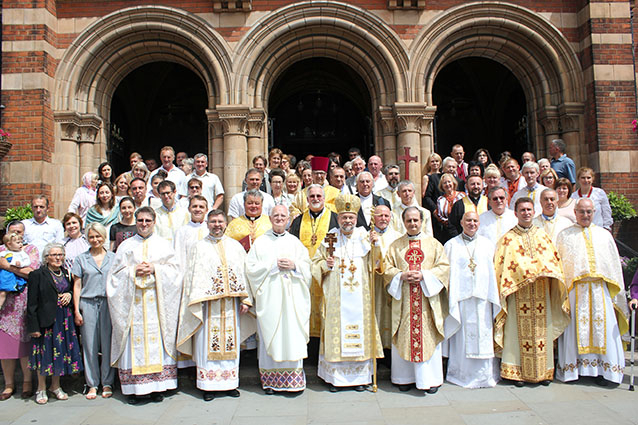 The Eparch was joined in prayer by the representative of the Apostolic Nuncio in Great Britain, Monsignor Matteo De Mori, currently chargé d'affaires of the Apostolic Nunciature; the representative of the Archbishop of Westminster, Cardinal Vincent Nichols - Canon Michael Brockie of the Westminster Diocese; Father Dominic Robinson SJ, Provincial Superior of the Jesuit Community; a great number of clergy of the Eparchy; parishioners and guests. During the service the cathedral choir "Promin Nadiyi" was accompanied by members of the "Anniversary" choir and sang the responses.
Bishop Hlib greeted all those present on the occasion of the Jubilee and in his homily underlined, that this prayer is a Liturgy of heartfelt thanks to God for this particular gift, which was acquired thanks to the great efforts of our people. The Lord blessed and helped them, so that today we can pray in this church. "This Cathedral stands not only for people to come together, meet up, hear our native language, but is primarily here to unite us with God," said the Bishop.
"We should also thank God for the suffering and difficulties we have in life, for with these Christ encourages us to rely only on God… Being obedient to God's word, God's voice and God's will in all things – is the best way for us to thank Him for the gift of this church".
After the Liturgy, Bishop Hlib greeted the guests. Then Monsignor Matteo De Mori read a Jubilee Greeting and Apostolic Blessing from His Holiness Pope Francis. The Holy Father wished the clergy and faithful further growth in faith and hope, which are rooted in Christ's Gospel, for it is there that we find "a treasure of life and love which cannot deceive, and a message which cannot mislead or disappoint (Evangelium gaudium, 265)".
Canon Brockie then expressed good wishes and greetings from Cardinal Nichols. Father Mykola Matwijiwskyj, Chancellor of the Eparchy, read the greeting letter received from Patriarch Sviatoslav Shevchuk. His Beatitude particularly expressed that "in a temple which is built from stone you are transformed through the grace of the Holy Spirit into a living temple of living bricks (see 1 Peter 2:5) and, empowered with God's strength, you can reveal to the world God's love by filling it with works of mercy towards those in need".
At the conclusion of the service the community united in prayer for Ukraine: "O, great God, eternal." Then a commemorative photograph was taken before the facade of the Holy Family Cathedral.
Press Service for the Ukrainian Catholic Eparchy of London
MEDIA