5th Ecumenical Social Week Begins With Ecumenical Prayer
Friday, 28 September 2012, 00:07
On 25 September, the 5th Ecumenical Social Week began with an ecumenical prayer meeting. The prayer was led by the Rector of the Ukrainian Catholic University, Bishop Borys Gudziak. Representatives of the Christian denominations of Lviv gave their blessings for the opening of the event and filled the prayer with the ecumenical spirit.
The prayer was attended by the assistant of Archbishop Metropolitan Mieczyslav Mokrzycki of Lviv of the Roman Catholic Church,  Bishop Leontii, the Rector of the Lviv Spiritual Seminary of the Ukrainian Autocephalous Orthodox Church, Mitred Protoprist Vasyl Lutsyshyn, Dean of the Armenian Apostolic Church, Armen Akogian, Pastor Andrii Hamburg of the German Evangelical Lutheran Church.
"The Ecumenical Social Week unites tens of social organizations in a very quiet way. And the ecumenical prayer inspires a spirit which will accompany the participants during the whole Ecumenical Social Week," noted Bishop Borys during his sermon.
Deacon Armen Akogian used a metaphor saying that "we all  are part of the mosaic icon of Jesus Christ and our prayer completes it." Pastor Andrii Hamburg reminded the participants of the words of Patriarch Sviatoslav (Shevchuk) that "any reconciliation begins with repentance."
In the end of the prayer, President of the Institute of Ecumenical Studies, Fr. Dr. Ivan Datsko wished the young generation to be educated in the ecumenical and social way. "The Ukrainian Catholic University fulfills its mission by educating a flock which will build Ukraine and represent it in the world on the principles of Christianity," stressed Fr. Dr. Ivan Datsko.
The organizers traditionally open the Ecumenical Social Week with a joint prayer.  The social weeks in Ukraine are known for their emphasis on ecumenicity, participation of Churches of all the denominations and not only active members  of the civil society and reps of authorities.
Reported by Anna Mykulyak
PUBLICATIONS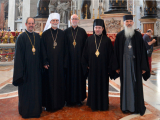 Glory to Jesus Christ! Beloved Brothers and Sisters in Christ!
MEDIA