«" Russkiy mir " has nothing to do with the Church », - Head of the UGCC
Tuesday, 24 September 2013, 14:13
Today Christians are tired of religious divisions. It is felt among the Orthodox, who cannot understand why they are divided into three Churches, and among the believers, who are increasingly asking, when the only local Church will be. It was said by His Beatitude Sviatoslav (Shevchuk), Head of the UGCC, in an interview for the newspaper of Lviv Regional Council.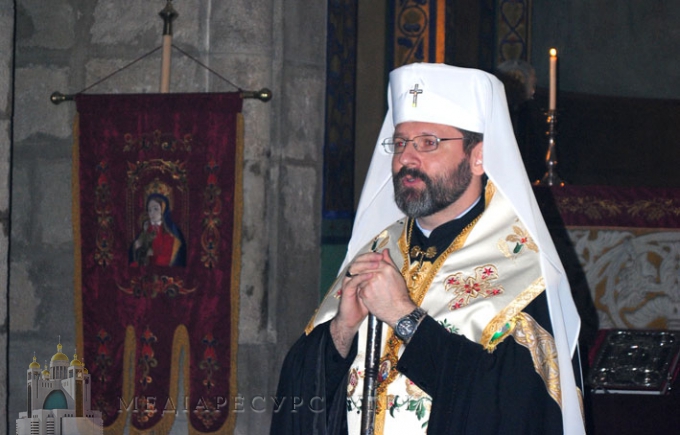 According to the Head of the Church, ecumenism is possible when we "will not adjust the Church to any geopolitical projects"." Russkiy mir "has nothing to do with the Church. These are alternate chains that someone is trying to throw up on UOC (MP) and use it for the benefit of a foreign state. The believers of the Church understand it, "- he commented.
Remembering a recent visit of Cardinal Kurt Koch to Ukraine, the Heads of the Pontifical Council for Promoting Christian Unity, His Beatitude Sviatoslav said that in fact, it was the first time ever met he Primate of UOC, he Head of the UGCC, the Papal Nuncio and the Head of the Pontifical Council. "We all sat together at a table in the Kyiv- Pechersk Lavra. It was an unprecedented event!
In the history it is difficult to remember something like that at such a high level. Moreover, the meeting was very constructive and warm ", - he explained. Actually, then the Metropolitan Volodymyr (Slobodan) said that 20 years were lost in the case of ecumenism. "I think that step by step we will go to the unity as Jesus Christ taught us. In this light ecumenism is not only possible, but necessary. We need to realize that without it we cannot name ourselves a Christian community ", - said the Head of the UGCC.
Explaining the concept of ecumenism, the Father and the Head of the UGCC said that it lies in searching for the unity. In this case, in his opinion, religious relativism (position "whatever the Church ") – is unjustified. "If we do so, we will never have our Church," - said the Primate. In addition, he said, the world trends towards religious illiteracy. "Sometimes I hear that even the first people in the country when seeking to express their religious feelings, use non-Christian terminology - talk about energetics, aura. They are strange things ... we should teach Christians their belief, native terminology. Then people will be open to ecumenism"– stressed His Beatitude Sviatoslav.
UGCC Department of Information
PUBLICATIONS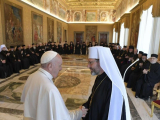 United around you today, Holy Father, we want to assure you that our Church is undergoing a pastoral transformation. We are aware that it is not...
MEDIA