A book of His Beatitude Sviatoslav Tell me the truth. Dialogues about a sense of life was published in Italy
Wednesday, 24 October 2018, 21:08
"Tell me the truth. Dialogues about a sense of life" – a book of His Beatitude Sviatoslav which was published in Italy by Cantagalli publishing house. The presentation of the book, introduction to what was written by cardinal Christoph Schönborn, will be held in Vatican, October 25.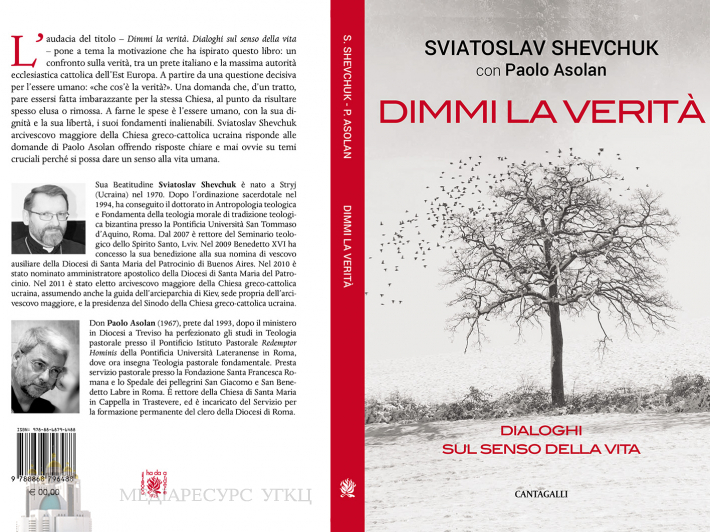 A book emerged from long dialogues between Fr. Paolo Asolan, professor of Pontifical Lateran University and His Beatitude Sviatoslav. A dialogue between two thinkers of east and west worlds is grounded on three theological virtues: faith, hope and charity.
Apart from that, readers have an opportunity to learn more about the Head of the biggest Eastern Catholic Church and personal history of how he was called to his pastoral service. The spiritual way of Head of UGCC described in this book is smoothly intertwined with a global scope of history and contemporary life of the Church which he represents.
The last chapter is dedicated to different issues about a relevant phase of UGCC life. The interlocutors discuss such relevant topics of the Church life as synodality, clerical marriage, ecumenical dialogue, secularism, migration phenomenon.
The first presentation of the book will be held in Vatican on Thursday, October 25. The presentation will be held by Mauro Leppori, well-known contemporary theologian in Italy, Matteo Zoppi, professor of State University of Genoa, Monica Mondo, TV presenter of "Soul" program on "Sat2000" channel.
The Secretariat of Head of UGCC in Rome
MEDIA