A cartoon about the Patriarchal Cathedral was presented to children in Kyiv
Tuesday, 13 August 2013, 16:39
On the occasion of the Blessing of the Patriarchal Cathedral of the Resurrection of Christ, UGCC clergy held a showing of a cartoon movie for children on the history of the origins of the Ukrainian Greek-Catholic Church "A Spiritual Necklace."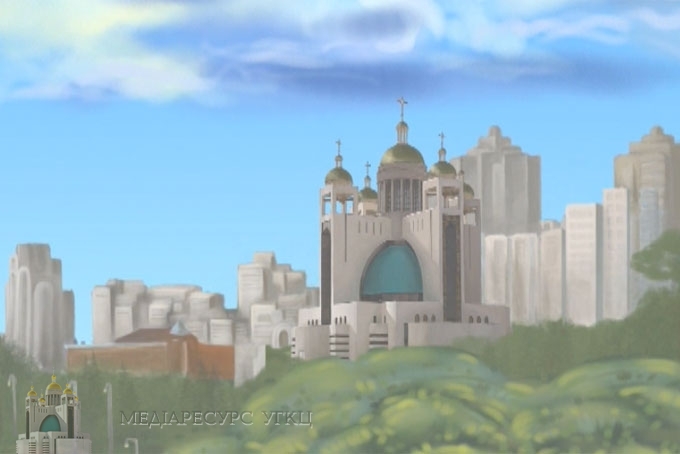 On August 13, 2013 in the Patriarchal Cathedral some 35 children gathered for Vespers to Equal to the Apostles Prince Volodymyr and for the showing of a Christian cartoon. According to Rev. Mykhailo Harvat, head of the Catechetical Commission of UGCC Kyiv-Halych Major Archbishopric, children from Kyiv UGCC parishes gathered here, but the effort is being conducted in order to pass on the blessing to all the children of Ukraine. "Children should also be involved in the monumental celebration of the Blessing of the Cathedral, and therefore their interest is being heightened in a form suitable for their age – through cartoons," states the clergyman. "Animated cartoons are a visually effective material which can be utilized by catechists during catechism lessons and presentations." In his words the cartoons about the Seven Sacraments were produced as preparation for the 1025th anniversary of the Baptism of Rus and the proclamation of 2012 as the Year of the Holy Sacraments.
Among the attendees are children of all ages. Arsen Zeniuk from Kyiv says that the Christian cartoons encourage one to think more about God and sow the seeds of goodness and truth. "For me personally it was interesting to learn that once the Greek-Catholic Church was persecuted, to share impressions of the film with others. Russia forced the faithful to be Orthodox and Poland leaned towards Catholicism, but the Greek-Catholic Church remained Ukrainian and united in it the two separated Churches."
The film presentation was accompanied by religious games and refreshments.
A reminder: the cartoon "Spiritual Necklace" was prepared by UGCC Catechetical Commission together with the studio Art Design through the assistance of Oleh Podvirnyi. Credits for work on the cartoon: producer: Zoriana Zaniuk; director: Serhiy Harmash; consultant: Nataliya Syrotych, catechist of UGCC Church of Mykola the Good (Podil, Kyiv); scenario: Taras Mykytchak; editing: Serhiy Kachurovsky; artist: Oksana Yemelianenko; sound: Mykola Dziuzia.
This is not the first cartoon ordered by the Church. There are also films about Krylos and Stradch. In the future it is planned that there will be movies produced about the holy pilgrimage places – Univ, Zarvanytsia and Hoshiv, as well as about the Blessed new Martyrs," stressed Rev. Mykhailo Harvat. "Enough time has passed since they were pronounced blessed, yet children and even adults cannot always list them, name who they are," says the priest. "They are our ancestors, who literally in the 20th century sacrificed their lives for faith, for the Church, for Ukraine."
UGCC Department of Information
PUBLICATIONS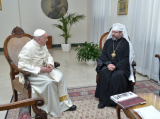 3 July at 10:00 AM, at Casa Santa Marta in the Vatican, Pope Francis met with His Beatitude Sviatoslav. The meeting was held at the request of the...
MEDIA