A chapel of Mother of God of Perpetual Help is being prepared for its consecration on Dnipropetrovshchyna
Saturday, 21 March 2020, 13:41
In Kamianske town, on Dnipropetrovshchyna a chapel of Mother of God of Perpetual Help is being prepared for its consecration, reported by bishop Stepan Meniok, Exarch of Donetsk, UGCC.
Giving a comment to the Department for Information, Fr. Mykhailo Neizhmak, an administrator of a cognominal parish, described a process of preparation for the consecration: "interior renovation works have been finished so far, and now we are about to install lightening. We already have an altar, offertory table and other necessary attributes. We cannot announce an accurate date of consecration due to coronavirus case, however previously it is planned to be executed on one of the Sundays after Easter".
Both, a chapel and a parish will be dedicated to the Mother of God of Perpetual Help.
"This small church can be called as "a one built by and for people", considering the fact of support. We thank you all for prayers and support and ask you to continue praying for us. God bless you and enrich with His grace", expressed his gratitude bishop Stepan.
New candelabrums are expected to be delivered into the chapel and money is now collected for benches. For everyone who is willing to make a donation, a PrivatBank account is available: 5168755431917455 Неїжмак Михайло Павлович (Neizhmak Mykhailo Pavlovych).
We add that a Greek Catholic parish in Kamianske town was registered in October, 2016. Fr. Mykhailo Neizhmak is an administrator of it. Since then, on the plot of land given to them, a chapel has been built.
The UGCC Department for Information
PUBLICATIONS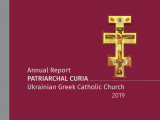 The Patriarchal Curia of the Ukrainian-Greek Catholic Church has published the 2019 Annual report which will be shared with the major donors...
MEDIA