A new edition of Josyph Slipyj was brought out in Kyiv
Tuesday, 29 September 2015, 11:24
On September 25, on basis of Kyiv-Mohyla Academy was presented the first book written by Yaroslav Pelikan "The Confessor between East and West, A Portrait of the Ukrainian Cardinal Josyph Slipyj". An event occurred in the frame of XV International Theological Dormition Readings on the topic "Truth, Memory, Reconciliation."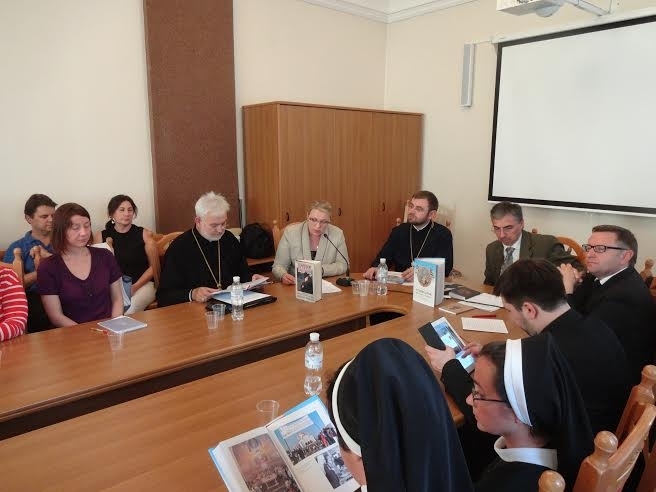 A presentation was made by a principal of European Humanities Research Centre of National University of "Kyiv-Mohyla Academy" and editor-in-chief of "Dukh and Litera" Research and Publishing Association, prof. Kostyantyn Sigov. Among the speakers were also present: d-r Iryna Ivankovych, a translator of a book, a principal executive of "Saint Sophia" Religious Association of Ukrainian Catholics in America (SSA A); f-r Marko Yaroslav Semegen, an author of the afterword, a President of SSA in Rome; d-r Mykhaylo Perun, chief of "Artos" Publishing House.
Each of speakers outlined a separate aspect of a publication. Hence, Ivankovych I. told a pre-history of the edition, gave an excursus on the book and shared her observations about a process of translation. Father Marko Semegen analyzed fully the objectiveness of his work. Perun M. clarified the communicative semiotics of the book. Josyph (Milyan), Auxiliary Bishop of Kyiv Archeparchy appealed to the present with a brief speech, emphasizing a will power and humanity of God's servant, Patriarch Josyph Slipyj. He mentioned, particularly: "A fainthearted person could never endure an outrage of the 18-year imprisonment. Patriarch withstood because of taking this scorn as an outrage over his Church and people".
A book "A Confessor between East and West, A Portrait of the Ukrainian Cardinal Josyph Slipyj" appeared up to 70th anniversary of God's servant arrest and imprisonment. Pelikan tells a story of Patriarch Josyph Slipyj and the Ukrainian Greek-Catholic Church (UGCC). The edition is released with the initiative and support of "Saint Sophia" Religious Association.
Ivankovych Iryna
PUBLICATIONS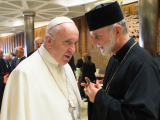 An unprecedented event took place in Rome on July 5-6. Desiring to demonstrate support for the Ukrainian Greek-Catholic Church at a time of...
MEDIA