A new eparchy created in the UGCC and its first ruling bishop nominated
Thursday, 26 November 2020, 15:19
On November 25, 2020, the Vatican announced that the Holy Father Francis, Pope, had blessed the decision of the Synod of Bishops of the Ukrainian Greek Catholic Church and announced the establishment of a new Olsztyn-Gdańsk Eparchy of the UGCC in Poland. The episcopal seat of the eparchy will be Olsztyn, and the cathedral will be the Church of the Intercession of the Most Holy Theotokos.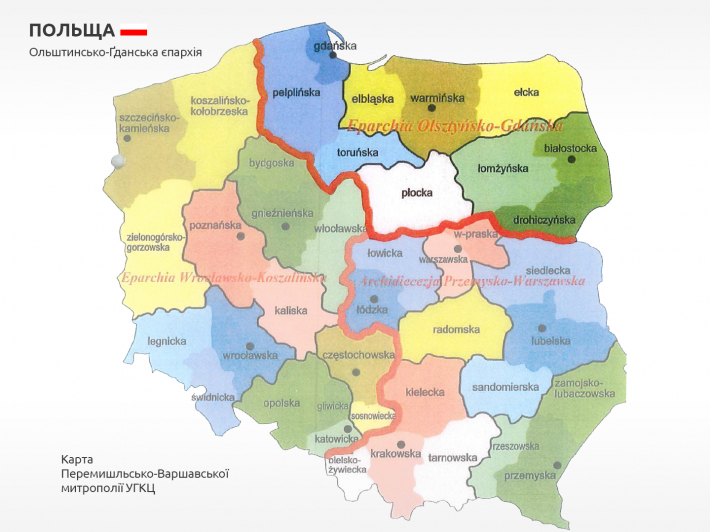 The territory of the new eparchy is separated from the territory of the Przemyśl-Warsaw Archeparchy and the former Wrocław-Gdańsk Eparchy. At the same time, the name of the Wrocław-Gdańsk Eparchy is changed to the Wrocław-Koszalin Eparchy.
The first bishop of the newly created eparchy is Fr. Dr. Arkadiy Trokhanovsky, pastor of the parish of the Exaltation of the Holy Cross in Wałcz, archpriest of the Koszalin deanery. The date of his episcopal ordination will be announced later.
Until the ordination and enthronement of the ruling bishop, Bishop Yevhen Popovych, Archbishop and Metropolitan of Przemyśl-Warsaw, will be the Apostolic Administrator of the Olsztyn-Gdańsk Eparchy.
Biographical information
Father Arkadiy Trokhanovsky was born on January 6, 1973 in Szprotawa.
In 1994-2000, he studied at theological seminary. He was ordained a priest on July 29, 2000 in Wrocław by Bishop Volodymyr Yushchak, Bishop of Wrocław - Gdańsk.
From 2000 to 2001, he was a vicar in Wrocław, Środa Śląska, Oława and Oleśnica.
He received his higher theological studies at the Pontifical Theological Faculty in Wrocław, and in 2012 he became a Doctor of Ecumenical Theology at the Theological Faculty of the Adam Mickiewicz University in Poznań.
In 2001, he became a parish priest in Wałcz.
From 2001 to 2016, he was also the pastor of the parish in Szczecinek.
In 2006, he became a member of the Pastoral Council, and in 2010 - the Protopresbyter (Dean) of the Koszalin Deanery.
Statistics:
The new Olsztyn-Gdańsk Eparchy covers a total area of ​​90,075 km2 with a population of 5,991,158 inhabitants. Its territory corresponds to that of the Latin dioceses of Gdańsk, Pelplin, Elblag, Toruń, Płock, Warmia, Elk, Łomża, Białystok and Drohiczyn. The newly created Eparchy includes 43 parishes and chaplaincies, entrusted to 26 priests, including 4 Fathers of the Order of St. Basil the Great.
Information Department of the UGCC according to
press.vatican.va
PUBLICATIONS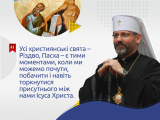 All the richness of the Christian life, our feasts, our Divine Liturgy are an opportunity to experience the events that the apostles went...
MEDIA