A new generation of community activists is being educated in the spirit of Christian values
Saturday, 27 July 2013, 19:17
During July 17-22, in the capital of Ukraine, an International Summer School on Leadership Ethics in Social Life of Ukraine was held. It was organized by UGCC Commission on Peace and Justice with the support of the Taras Shevchenko Kyiv National University (KNU). Among the participants were activists from all corners of Ukraine, namely: Kyiv, Ivano-Frankivsk, Lviv, Uzhhorod, Lutsk, Mykolaiv, and Luhansk. It is noteworthy that this year students from the neighboring Republic of Slovakia also participated.
The main goal of the International Summer School was to develop a new generation of community and political activists of Ukraine in the spirit of Christian values, since today a guarantee of the successful functioning of the state and society should be not only professional skills, but also moral and ethical principles.
Within five days the activists listened to lectures of renowned Ukrainian scholars from KNU: Volodymyr Buhrova, Vasyl Kostytskyi, and Vyacheslav Kudin. Also there were visiting professors from leading European universities. Bernhard Callebaut from the University of Sophia in Florence (Italy) familiarized the students with the social teachings of the Church. Professors Oliver and Mayka Sivery from the Autonomous University in Barcelona (Spain) discussed the basic principles of "pro-sociality" in the current world.
Student activists had the opportunity to communicate with current representatives of politics. First the students met the Honorable Consul of Ukraine in Reggio Calabria (Italy), Dr. Salvatore Federico, who also visited the International Summer School. Also Volodymyr Bodnarenko, a deputy of Parliament and a representative of Batkivshchyna Party, visited the school during his stay in the West and enthusiastically spoke with the students and answered their questions.
The organizers of the International Summer School assured that such events will take place not only in Ukraine but also in various European cities.
Secretariat, UGCC Commission on Peace and Justice
PUBLICATIONS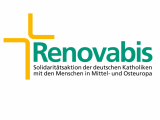 From 13 to 19 May, the Father and Head of the Ukrainian Greek Catholic Church (UGCC), His Beatitude Sviatoslav, was to visit Germany at the...
MEDIA