A new pastoral center for Greek-Catholics opened in Piaseczno (Poland)
Tuesday, 29 October 2013, 11:36
On October 27, 2013 in Poland in the city of Piaseczno near Warsaw, a new pastoral center for Ukrainian Greek-Catholics was opened.
Rev. Myroslav Turkota, a priest of the GCC Mukachev Eparchy in Transcarpatia, was appointed the pastor of the newly-created center. He presently resides in Warsaw. According to High Monk Petro Kushka, the opening of the new center in Poland became possible thanks to the agreement between Archbishop Ivan (Martyniak), UGCC Peremyshel-Warsaw Metropolitan and Cardinal Kazimierz Nycz, Roman Catholic Metropolitan of Warsaw.
In Piaseczno, the Liturgy will be celebrated every Sunday (at 12:00 noon) in the chapel of the Catholic Gymnasium which has its own building in the city park in the city center (20e Khylichkovsky St.).
UGCC Department of Information
PUBLICATIONS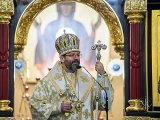 Head of the Ukrainian Greek Catholic Church brings multifaceted experience to project of evangelization.
MEDIA