A pilgrimage devoted to the 150th birthday anniversary of the blessed Klymentiy Sheptytsky was carried out to Univ Lavra
Monday, 20 May 2019, 20:58
May, 17-19, 2019 was held 26th international youth pilgrimage Lviv-Univ which was devoted to the 150th birthday anniversary of the blessed Klymentiy Sheptytsky and 100th anniversary of restoring monasticism in Univ Lavra.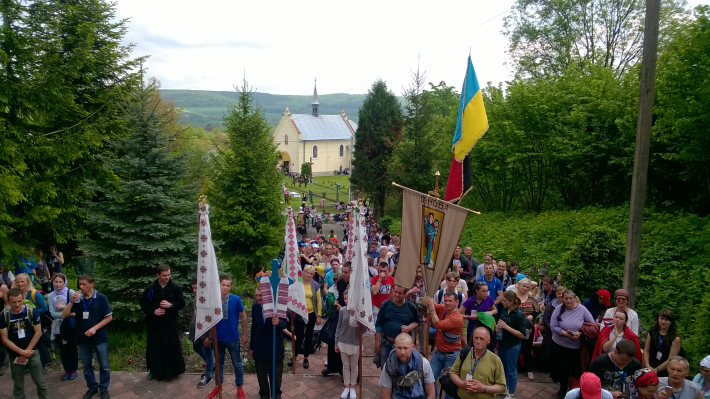 The pilgrimage started on Friday at 7 am with a Hierarchial Divine Liturgy in Saint Michael Cathedral, which was led by metropolitan Ihor Vozniak.
Approximately 750 registered pilgrims left Lviv. 36 km were passed during the first day following the route Lviv – Lysysnychi – Vynnyky – Sosnivka – Hlukhovychi – Zvenyhorod – Romaniv where they stayed for a night. On the way, pilgrims made stops in Lysynychi village and Vynnyky town where priests with their parishes prepared for them delicious snacks.
The second day after the Liturgy in Saint Michael Church and a breakfast pilgrims headed for Univ through Romaniv – Selys'ka – Hanaachiivka – Zatemne – Korosno – Syvorohy – Univ. The number of pilgrims increased as many people joined them by getting by bus. Pilgrims reached Univ at 8 pm.
To mark the feast of Univ Miraculous Icon of Mother of God all-night services began at 9.30 pm. Vespers with Litiya was led by bishop Hryhoriy Komar, Bishop-auxiliary in Drohobych. Bishop Teodor Martyniuk, Bishop-auxiliary in Ternopil led the Hierarchial Divine Liturgy at 4 am.
The celebration ended on Sunday with the Hierarchial Liturgy at 11 am, led by bishop Hryhoriy Komar. In his homily he pointed at the meeting between Jesus and an invalid at the pool, Bethesda. This meeting teaches us a true interaction and a fact that Jesus Christ is ready to lift everyone from their own inferiorities.
Owing God, holy intercession of Virgin Mary, blessed Klymentiy Sheptytskiy and all saints everything went well.
Pilgrimage organizers are the association of Ukrainian catholic students "Obnova" and monks of Univ Lavra. To help in arranging this pilgrimage join different youth organizations and communities of the UGCC, social organizations, local authoirities, police and physicians.
Hieromonk Alipiy, Pilgromage spiritual father
PUBLICATIONS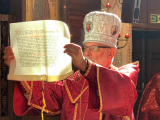 TO OUR BELOVED BROTHER IN CHRIST Most Reverend Bishop Kenneth Anthony Adam Nowakowski
MEDIA