A pilgrimage to the Holy Land, supplemented by spiritual exercises of St. Ignatius Loyola, began
Thursday, 24 October 2013, 13:58
October 21 pilgrimage groups, organized by Patriarchal Pilgrimage Center of the Ukrainian Greek Catholic Church, went to the Holy Land. The spiritual leader of the group is Fr. Andrew Zelinskyi . October trip has the nature of spiritual renewal and is titled " Recollection on Wheels: spiritual journey in the footsteps of our Savior."
Going on a trip to Tel Aviv, Fr. Andrew appealed to the pilgrims, saying: " We begin our journey for hope. Holy Land has always been a land of hope for Christians. The main theme of the national anthem of Israel is hope, therefore, while traveling the paths of Christ we are going to discover new horizons of hope, own horizons of faith. "
Reference
For almost five centuries Spiritual Exercises of St. Ignatius Loyola, the founder of the Society of Jesus (Jesuit Fathers of the Order), help millions of Christians to deepen their spiritual experience of the Church, to develop personal friendship with the Savior in the context of everyday life, to become his faithful followers in the world, where they are called to exercise their Christian mission. Our pilgrimage offers to deepen into this rich spiritual tradition, to participate in an exciting journey into the depths of the spirit, going along the road which Jesus of Nazareth traveled. Intensive spiritual course for modern man " Retreat on wheels: a spiritual journey in the footsteps the Savior" is combined with spectacular views of the Holy Land and the ability personally touch the reality, covered with antiquity, which carried our salvation.
In addition to visiting the attractions of Bible places and Christian holy places in the program are:
- The fundamental principles of the spiritual life for people today;
- Introduction to prayer for spiritual modalities by Ignatius Loyola;
- Deepening self-knowledge in the context of Christian spirituality;
- The possibility of personal spiritual accompaniment according to the method of spiritual exercises of St. Ignatius Loyola.
http://pilgrimage.in.ua/?p=1597
PUBLICATIONS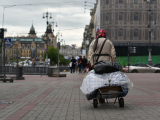 Pastoral Letter of the Synod of Bishops of the Ukrainian Greek-Catholic Church of 2020 to the clergy, religious, and laity...
MEDIA