A series of professional pilgrimages to Zarvanytsia completed
Tuesday, 25 October 2011, 20:43
Thirteen professional pilgrimages to the Marian spiritual center in Zarvanytsia were held in 2011. "Professional pilgrimages to Zarvanytsia began in 2002," said Anna Zvarych, coordinator of the Lay Apostolate of the eparchy. "Each year, their number increases. For lay people who work together and are united professionally, it has become a good tradition to gather in Zarvanytsia and witness their faith in the Lord."
Thirteen professional pilgrimages to the Marian spiritual center in Zarvanytsia were held in 2011. "Professional pilgrimages to Zarvanytsia began in 2002," said Anna Zvarych, coordinator of the Lay Apostolate of the eparchy. "Each year, their number increases. For lay people who work together and are united professionally, it has become a good tradition to gather in Zarvanytsia and witness their faith in the Lord." A professional pilgrimage of workers of the Control and Revision Administration of Ternopil Oblast took place on October 22. More than 130 people with families, including the head of the administration Ivan Pantso, and representatives of all regional offices, took part in a joint Holy Liturgy. Bishop Vasyl (Semeniuk) of the Eparchy of Ternopil-Zboriv, gave everyone a blessing. Then the dean of Zarvanytsia, Fr. Volodymyr Toporovskyi, greeted the pilgrims in the parish church and blessed them with the relics of saints. On October 23 a pilgrimage was held for workers in travel services. Approximately 600 pilgrims came from the Ternopil, Rivne, Khmelnytsky, Ivano-Frankivsk, Chernivtsi and Volyn regions.  The vicar general of Ternopil-Zboriv Eparchy, Fr. Andriy Romanko, headed the Divine Liturgy at the Cathedral of Our Lady of Zarvanytsia In his address to pilgrims Fr. Romanko said about the great God's love and mercy to everyone. The priest said that our personal sin is an act of unmercifulness to ourselves. After the Liturgy, Fr.  Romanko awarded certificates and the Zarvanytsia icon of the Mother of God. This was followed by a water blessing, a Cross Procession, and an excursion, which was led by seminarians of the Ternopil Seminary.  
Ternopil-Zboriv Eparchy press service
PUBLICATIONS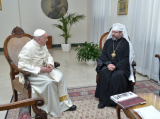 3 July at 10:00 AM, at Casa Santa Marta in the Vatican, Pope Francis met with His Beatitude Sviatoslav. The meeting was held at the request of the...
MEDIA