A unique edition of Bishop Yulian Pelesh presented in the Academy of John Chrysostom
Thursday, 24 October 2019, 21:00
October 22, 2019 in Ivano-Frankivsk Academy of John Chrysostom was delivered a presentation of reprinted edition, updated and expanded (restructured reprint of the second Vienna edition of 1885) by the first bishop of Stanislav Yulian Pelesh "Pastoral theology".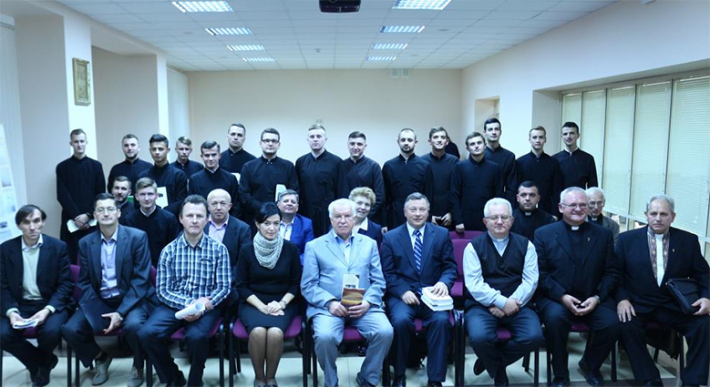 The edition has gone public owing to support of The Hnat Khotkevych Foundation for National Cultural Initiatives, particularly of its representative, PhD candidate Andriy Cheremskyi.
Lecturers and students of the academy, scientists of higher educational institutions of the region, priests and public figures were present at the event.
A fundamental research of a scientific heritage of bishop Yulian Pelesh was conducted by a guest from Kharkiv Andriy Cheremskiy.
During the presentation the word was given to scientists of Vasyl Stefanyk Precarpathian National University and Academy of John Chrysostom, local priests and head of All-Ukrainian Brotherhood of OUN-UPA.
To finalize, vice-rector of academic affairs at Ivano-Frankivsk Academy of John Chrysostom Oleh Bilous thanked all present for their participation in the presentation and emphasized an importance of studying and exploring Church historical heritage.
Father Yulian Pelesh, PhD was the first bishop of Stanislav. He taught at spiritual seminaries in Lviv (1870-1872), Przemyśl (1872), Vienna (1874-1883). In the capital city of Austria, he was a catechetical leader of his throne heir archduke Rudolf Habsburg, whom he taught Ukrainian language. In 1885 Fr. Yulian Pelesh was amongst those prominent candidates for Metropolitan after the resignation of Joseph Sembratovych. He was an author of such works as "Study guide for catholic religion" (1876), "Pastoral theology" in two volumes (Vienna 1877, 2nd edition – 1885), "History of Ruthenian Church union with Rome" in two volumes (Vienna, 1880) and other publications.
West Office of "Zhyve.TV" by the materials of http://ifaiz.edu.ua
PUBLICATIONS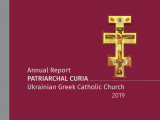 The Patriarchal Curia of the Ukrainian-Greek Catholic Church has published the 2019 Annual report which will be shared with the major donors...
MEDIA