A vibrant parish was the focus of the Minor Council held in Hildesheim (Germany)
Wednesday, 24 October 2012, 11:52
Recently a Minor Council of the clergy of the Apostolic Exarchy of Germany and Scandinavia was held in the city of Hildesheim on "A Vibrant Parish – an integral and fundamental part of the Church, where the meeting with Christ occurs." The meeting lasted three days during which basic issues dealing with the life of a parish, an essential and integral part of every eparchy and exarchate were considered.
During the first day the concept of a parish was examined in the context of Church Law as well as its purpose of existence together with its objectives, placed on it by the Church.   In these deliberations, the main and most helpful instruments were  considered the pastoral epistle of His Beatitude Sviatoslav, "A vibrant parish – the place of meeting with the living Christ," as well as this year's resolutions of the UGCC Synod of Bishops proclaiming this year in our Church as the "Year of the Laity."
The speaker, referring to these Church documents, tried to portray the priest, who is involved directly in the pastoral work of the parish.   It was emphasized that the parish priest or his assistant, having contact with the faithful of his own Church of his rite, but also with faithful of Christians belonging to other confessions or religions, is expected to know the norms ruling his own Church.
In being familiar with cannon law, priests can effectively assist their faithful to fully realize their calling in the Church, which primarily is expressed by live participation in the Holy Sacraments, creating thereby a personal connection with Jesus Christ.
In addition to the obligations in regard to the faithful laity, attention was also paid to the lay person, who through partaking in the reception of the Sacraments of Christian Sacredness becomes a member of the Church and thereby begins to be subordinate to church law.
In addition to regular church information, the pastors of the eparchy also had a chance in considering the work of the strategy of UGCC 2020, to think through and analyze their own pastoral work, to exchange experiences and become enriched by new knowledge about organization of pastoral work.
Source: report by Rev. Ivan Machuzhak
PUBLICATIONS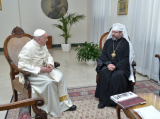 3 July at 10:00 AM, at Casa Santa Marta in the Vatican, Pope Francis met with His Beatitude Sviatoslav. The meeting was held at the request of the...
MEDIA