All national pilgrimage to St. Sophia Cathedral in Rome on the occasion of its 50th anniversary is conducted on September 1st
Sunday, 17 March 2019, 19:08
This year the main church of UGCC overseas, pro cathedral of Saint Sophia in Rome is celebrating its 50th anniversary from the date of its consecration. Hierarchal Divine Liturgy led by His Beatitude Sviatoslav in co-service with bishops of the Synod of UGCC will become the central event of the celebration.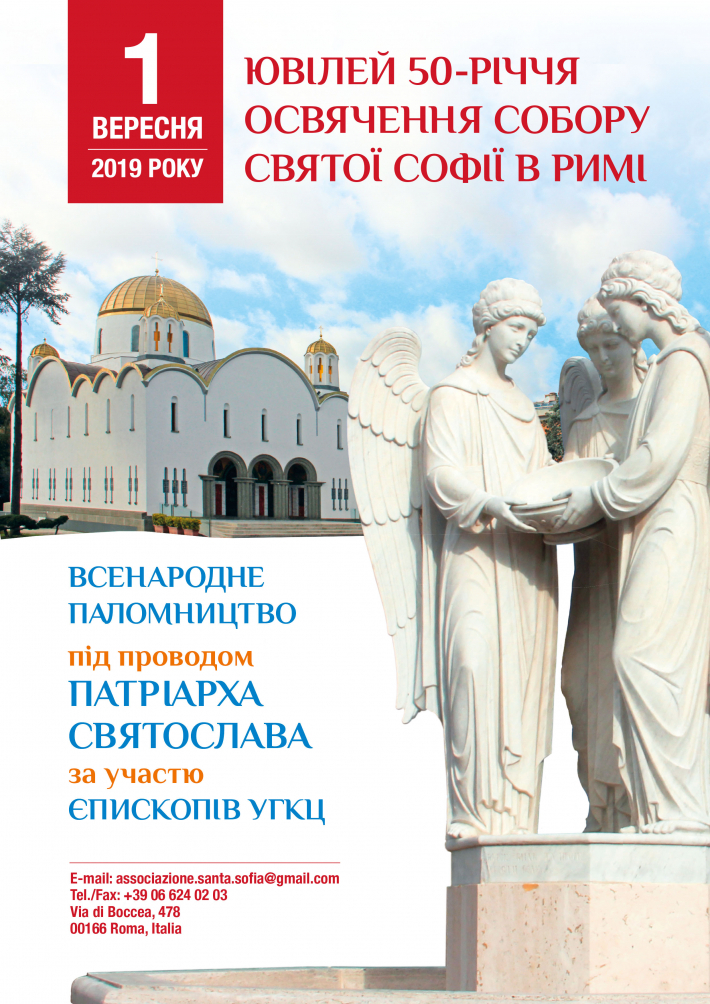 Having returned to Rome from Siberian exile in 1963, patriarch Josef Slipyj started collecting money for building St. Sophia's Cathedral in Rome. In June, 1967 the building process had been started, and September 27-28, 1969 the cathedral was solemnly consecrated in the presence of Pope Paul VI, who placed relic of saint martyr pope Clement at the altar there. Being built as a prototype to St. Sophia's cathedral in Kyiv, St. Sophia's Cathedral in Rome carried out a special mission – be "a sign and symbol of destroyed and defiled Ukrainian temples, the most significant witnesses amongst them – cathedrals, witnesses of Christianity of our great  grandfathers, Saint Sophia in Kyiv and St. George in Lviv!" (The Testament of patriarch Josef Slipyj).
For half of a century the church has become a significant center of spiritual, cultural and national life for Ukrainian people. His Beatitude Sviatoslav in the letter "Our Saint Sophia" identified the patriarchal cathedral as follows: "Building cathedral of Saint Sophia in Rome, consecrating it with saint pope Paul VI, this faith bearer observed Saint Sophia's Cathedral in Kyiv as a maternal cathedral of our Church, where his predecessors also prayed. Patriarch Josef considered it to be a visible temple of invisible Sophia, church and national wisdom that endured thousands of years in body and blood of its Church – today is victoriously shining over Ukraine and around the world. Patriarchal cathedral in Rome is a clear symbol of universal status of Sophia in Kyiv, the embodiment of Ukrainian heart's aspiration to unite completely with Christ, granted our people in a baptismal font of prince Volodymyr. It is a sign of an undying Ukrainian spirit enlighten with God's grace. The same, what patriarch Josef implemented in his own life".
For this reason, a jubilee of Saint Sophia's cathedral 50th anniversary will be marked on the all church level. On this occasion the permanent Synod of Bishops will take place in the Eternal City and the central event which celebrations open with is Hierarchal Divine Liturgy, led by His Beatitude Sviatoslav on September 1 at 10 am.
Press service of Saint Sophia Community
MEDIA