An Appeal from Greek-Catholic Bishops in Ukraine concerning the socio-political situation in the country
Monday, 03 February 2014, 15:10
Beloved in Christ! Over the last few months our country has been living through severe trials which testify to the deep crisis in the relationship between people and government.. The lack of the will of the government to listen to the thoughts of the people has already led to tragic results.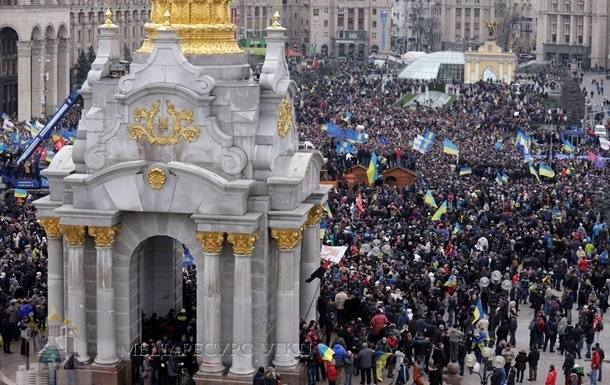 We express our deep sympathy to the families of the perished, assuring them of our closeness through prayer, we express our solidarity with the families of the persecuted, we stand on the side of the beaten ones, the oppressed, the harassed, and the humiliated. Today our voice joins with the voices of millions of citizens of Ukraine who plead with the heavens for truth and justice in the words of the Holy Scripture: Drop down, ye heavens, from above, and let the skies pour down righteousness: let the earth open, and let them bring forth salvation, and let righteousness spring up together; (Is 45,8) . With this I also would like to underline that justice will not come until every single wound is healed on the bodies of the victims, until all the disappeared without a trace are found, until in society all threats towards fundamental rights and freedoms of a person and the whole nation are removed and there comes a renewal of trust in government, the lack of which makes it impossible to build a modern lawful; nation.
In these difficult situations we have become witnesses of great human kindness and solidarity in our people. Youth, especially students, adults, elderly, women and men, and even people with special needs came to the squares and Maidans in Kyiv and in other cities, towns, and villages of our country, expressing their civil and spiritual maturity, readiness for self-sacrifice for a better fate for their native country. We express our respect and thanks to all these people, directing to them the words of St. Paul: Therefore, my beloved brethren, be ye stedfast, unmoveable, always abounding in the work of the Lord, forasmuch as ye know that your labour is not in vain in the Lord. (por. 1 Corinth 15, 58). We want to especially pay tribute to those people who while in the service of the country, regardless of pressure and threats, remained true to God's commandment and the voice of one's own conscience, and refused to act violently towards one's own people. They fulfilled the law with which the first Christians in Jerusalem followed, who, in being persecuted, did not step away from God's truth and said: "It is appropriate to listen to God more than to people!" (Di 5, 29).
Simultaneously, it is with great trepidation and a painful heart that we perceive the acts of violence, pressure and persecution of peaceful demonstrators by the law forces of Ukraine. Terrible and degrading for the nation itself has become the well-known fact, that the law forces have begun to deal in cahoots with hired criminals who have done pogroms and attacked the meeting crowds, medical doctors, journalists and even plain citizens among whom there were both the elderly as well as children.
Actions, aimed at the forceful suppression of a peaceful expression by citizens cannot be justified by anything and they deserve a definite and decisive censure. A government which supposedly does not hear the cries of its people and attempts to quiet its voice for personal rights through the blows of police clubs and with bullet shots, enters the dangerous path of terrorism and dictatorship which contradicts its essential fundamental vocation of caring about the unity of the people, to be on a guard of the sovereignty of the country and to work for the general good of all citizens, without exception.
The Church condemns all bloodshed and any forms of violence, but supports the right of citizens to peacefully demonstrate. With all due decisiveness, we appeal to all sides of the protest: "End the bloodshed! Do not permit the spread of violence!" In an independent and civilized Ukrainian nation, there should be no blood shedding of its own citizens during a peaceful time, only because these citizens demand and protect their given human rights and freedom. We call upon the government not to be violent towards their own people but to begin to respect their people. We hope that our voice does not become the "voice of the thirsty in the desert."
Today many look towards the Church with a direct or indirect question: what should we do? It is with such a question that contemporaries of that time came to John the Baptist and he answered them with the strength of the Holy Spirit, appealing to their change of hearts, to conversion: He answereth and saith unto them, He that hath two coats, let him impart to him that hath none; and he that hath meat, let him do likewise. Then came also publicans to be baptized, and said unto him, Master, what shall we do? And he said unto them, Exact no more than that which is appointed you. And the soldiers likewise demanded of him, saying, And what shall we do? And he said unto them, Do violence to no man, neither accuse any falsely; and be content with your wages.(Luke 3,11-14).
We are also conscious that: My help cometh from the LORD, which made heaven and earth... (Ps. 121, 2), we appeal to our faithful and to all people of good will to keep God's commandments, do none evil, remain in peace and goodness. We ask you to continue praying together in communities (parishes, monasteries, families) and individually for Ukraine. And we announce a period of fasting in all our eparchies and exarchates in Ukraine. To this appeal, we add practical directives about prayer and about fasting and ask our pastors to announce them and to organize them in an appropriate manner. Together with Metropolitan Andrey Sheptytsky, "we believe and hope that with contrition, sincere prayer and a sincere reception of the Holiest Sacrament we will earn that God will curtail our time of experience and suffering, that he will look with merciful eyes on his sons, that he will help them to survive with grace the evil of this life and through his Almighty Power will end our suffering." (por. Prayer for a better fate for the Ukrainian people).
At this time when our eyes are turned to the Capital of Kyiv, we are carried by our thoughts to the Church of St. Sophia – The Wisdom of God, where the Blessed Mother with hands raised to heaven
intercedes for us, imploring God to grant our land blessings and God's peace. To Her, our Queen and Heavenly intermediary, we long to place ourselves in her care, our land, its rulers, army – all who live on our land, asking with the words of an old Ukrainian prayer "We run to your mercy, Virgin Mother, do not ignore our prayers in our troubles, but save us from evil, you, the only pure and blessed one!"
God's Blessings on you!
Lviv –Briukhovychi, January 31, Year of God 2014
;
His Beatitude Sviatoslav (Shevchuk)
UGCC Father and Head, Major Archbishop
Kyiv –Halych
His Excellency Bishop Ihor (Vozniak)
Metropolitan of Lviv
His Excellency Bishop Volodymyr (Viytyshyn)
Metropolitan of Ivano-Frankivsk
His Excellency Bishop Vasyl (Semeniuk)
Metropolitan of Ternopil-Zboriv

His Excellency Bishop Mykhail (Koltun)
Eparch of Sokal-Zhovkva
His Excellency Bishop Milan (Shashik)
Eparkh of Mukachevo

His Excellency Bishop Yaroslav (Pryriz)
Eparkh of Sambir - Drohobych
His Excellency Bishop Vasyl (Ivasiuk)
Exarch of Odesa-Crimea,
Administrator of Kolomyia - Chernivtsi
His Excellency Josaphat (Hoverlia)
Exarch of Lutsk
His Excellency Bishop Stepan (Meniuk)
Exarch of Donetsk-Kharkiv
His Excellency Bishop Dmytro (Hryhorak)
Eparch of Buchach
His Excellency Bishop Taras (Senkiv)
Bishop Administrator of Stryj
His Excellency Bishop Bohdan (Dziurakh)
Bishop, Curia of UGCC Major Archbishop
His Excellency Bishop Venedykt (Aleksiychuk)
Assistant Bishop of Lviv Archeparchy
His Excellency Bishop Nil (Lushchak)
Assistant Bishop of Mukachevo Greek-Catholic Eparchy
His Beatitude Lubomyr (Husar)
Archbishop Emeritus

Practical pastoral directives
for joint prayer and fasting in Ukraine
- We delegate you to continue in churches, monasteries and seminaries a continuous prayer, according to the order established by the pastor or the
- We ask all our faithful and people of good will to every day join at 9PM a joint prayer for Ukraine
- We also encourage all to private prayers
We announce a continuous fast in all our Eparchies and Exarchates according to the following schedule:
· Monday – Kyiv Archeparchy, Donetsk –Kharkiv Exarchate, Odesa – Crimea Exarchate
· Tuesday-- Lviv Archeparchy; Stryi Eparchy
· Wednesday-- Ivano-Frankivsk Archeparchy; Kolomyia-Chernivtsi Eparchy
· Thursday – Ternopil Archeparchy; Buchach Eparchy, Sambir-Drohobych Eparchy
· Friday – Sokal-Zhivkva Eparchy; Lutsk Exarchate Mukachevo Eparchy
MEDIA