An Educational Program for Monastic Orders by the Institute of Leadership and Management at UCU has been completed
Thursday, 22 October 2015, 12:19
Twenty sisters from various monastic orders received Certificates after completing an educational program by the Institute of Leadership and Management at UCU.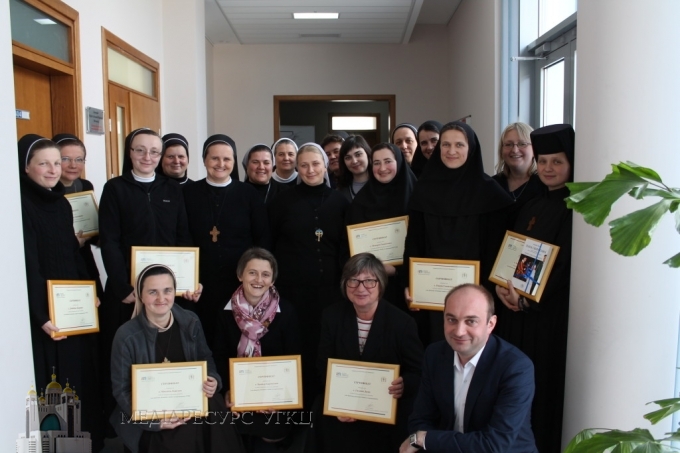 The celebratory Graduation program began with the Divine Liturgy, headed by Rev. Dr. Ihor Petsiukh, a priest and lecturer at UCU.
Participating in the program were 14 women's monastic orders and communities of UGCC and RCC. Among them were superiors, economists, secretaries, advisors. The goal of the project was to raise the organizing potential and the financial stability of the monasteries.
"Management and business for people who are dedicated to serving God seems very complicated. However, after this course, things which I perceived as unreachable turned out to be really not as difficult as they seemed. It was important for me to see how other communities work and live, how they implement new projects into their communities. A thought which is born spontaneously can turn into a serious matter and can bring a harvest,"- shares her thoughts Sr. Tereza Shwaber who is responsible for the novitiate in the Congregation of God's Providence.
"In the program I liked the harmonic union of spiritual issues with practical aspects of psychology, legal issues, and economics. It was interesting to hear Bishop Venedykt presenting strategic planning in the spiritual sphere," added Sr. Ahneta Zavydiuk from the Congregation of the Priest-Martyr Josaphat.
The educational program lasted from 2013 to 2015. Every month, three day modules took place during which the Sisters learned actual issues of management, financial management, and strategic planning within women's monastic communities.
As part of the project, there was an organized trip to monasteries of Europe in order to gain knowledge from their experience of conducting social enterprises. Participants of the program visited Poland, Czechoslovakia, Germany, and Austria.
Secretary of the Commission on Monastic Issues, were invited to award the certificates. The guests encouraged the sisters to implement into life all the knowledge which they gained during the program.
"From an idea to the final result there stretches a long and difficult path. However, if there is no idea, then there will also be no results. Everything begins with an idea. God gave us hands, a head and talents, in order to serve Him," emphasized Sr. Natalia Melnyk in her speech to the Sisters.
Press-service UCU
PUBLICATIONS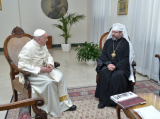 3 July at 10:00 AM, at Casa Santa Marta in the Vatican, Pope Francis met with His Beatitude Sviatoslav. The meeting was held at the request of the...
MEDIA