An oath by the relics of Blessed Vasyl Velychkovsky began the work of this year's UGCC Synod of Bishops
Sunday, 09 September 2012, 19:32
The first official act of this year's UGCC Synod of Bishops took place in St. Joseph's Church which houses the relics of the Bishop and Martyr Blessed Vasyl Velychkovskyi. The Synod Fathers followed their tradition of making an oath to maintain confidentiality and prayed for the assistance of the Holy Spirit in their work. The Prayer Service to the Holy Ghost was headed by His Beatitude Sviatoslav, UGCC Father and Head. Co-celebrants were Holy Synod members, metropolitans and bishops from Ukraine, Canada, USA, Poland, Brazil, Argentina, Germany, Great Britain, Italy and Australia. In all, thirty-eight hierarchs, including some bishops-emeriti, are participating in this year's Synod.
At the entrance to the church the Synod participants were greeted by Rev. Bohdan Lukie CSsR, pastor of St. Joseph's parish.  He handed His Beatitude Sviatoslav the personal cross of the Blessed Bishop and Martyr Mykyta Budka, whose centennial of arriving in Canada is commemorated by the Ukrainian Greek-Catholic Church in Canada this year.  In the name of the Redemptorist Order of the Yorktown Province, the Order of The Most Holy Redeemer, and in the name of all St. Joseph parishioners, the Synod Fathers were greeted by Rev. Larry Kondra          CSsR, the Father Superior of the Redemptorists of the Yorktown Province.  The Prayer Service was attended by nuns, members of the Synod's organization committee and numerous volunteers who assist the Redemptorists in hosting pilgrims who visit the chapel and museum of the Blessed Bishop and Martyr Vasyl Velychkovsky.
The text of the oath was read by the longest ordained bishop His Excellency Vasyl (Losten), Bishop-Emeritus of the Stamford Eparchy.   After the taking of the oath, there was a procession by the Synod Fathers to the chapel of the Blessed Bishop and Martyr Vasyl Velychkovsky.   The procession was headed by the most recently ordained Bishop Borys (Gudziak), who held a lighted candle as a symbol of living faith.  Bishop Borys was ordained on August 26, 2012 as the Apostolic Exarch for Ukrainian Greek-Catholics  in France, Switzerland and  Benelux countries.
In the Chapel of Blessed Priest and Martyr Vasyl, the  bishops prayed that this great ascetic of faith and prisoner of Communist concentration camps would intercede for the successful course of the Synod.  Then the bishops visited the Blessed Bishop and Martyr Vasyl Velychkovsky Museum under the guidance of Rev. Ivan Siyanchuk, the museum director.
UGCC Synod of Bishops Secretariat
PUBLICATIONS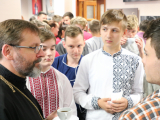 Today, more than ever, is the time for your boldest dreams: to tame the universe, to find a cure for cancer, to conquer epidemics, to build a just...
MEDIA