At the 1025th celebration of the anniversary of the Baptism of Rus-Ukraine Caritas-Ukraine will hold a special charitable event
Tuesday, 30 July 2013, 19:35
A special charitable project will be run by Caritas-Ukraine during the celebration of the 1025th anniversary of the Baptism of Rus-Ukraine. All present at the blessing of the Patriarchal Cathedral of the Resurrection of Christ in Kyiv on August17-18 will be able to personally sign-up to join in the social services of the Ukrainian Greek-Catholic Church and the work of the organization Caritas.
The project will be on the square in front of the Patriarchal Cathedral (map) where volunteers and staff of Caritas will be circulating souvenir candles especially prepared for this occasion. Youth with special needs who are under the care of Caritas- Lviv joined in making these candles. Quite a few people with very sincere hearts united in a shared goal –to help Caritas to support needy people who live among us.
Funds raised from the sale of candles will be directed for the work with needy children, youth and families who are within the network of the regional organizations of Caritas in 8 regions of Ukraine.
Services are carried out according to Christian principles and values, but independent of the religious affiliation of the receiver of the services, or one's social position, ethnic origin, gender or age.
Thanks to the many-faceted activities, the substantive experience and the broad network of its regional organizations, Caritas-Ukraine encompasses in its work several thousand needy people – provides them with material and social assistance, psychological support, protects their rights and realizes their social integration.
May we remind all, that Caritas worldwide has an almost 120 year-long experience, unites 165 national charitable organizations which work in close to 200 countries in the world, and helps more than 25 million needy people. Ukrainian Caritas has been functioning for almost 20 years and at present is 94-98% financed from abroad. Therefore, such an effort is the simplest and a very valuable means of expressing solidarity, responsibility and mercy by all who wish to partake in it.
The website of the Patriarchal Cathedral and the Blessing Program Schedule may be found here.
Reported by Nadiya Chorna
PUBLICATIONS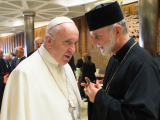 An unprecedented event took place in Rome on July 5-6. Desiring to demonstrate support for the Ukrainian Greek-Catholic Church at a time of...
MEDIA