Attendance at Christmas Services More Than Usual. Cathedral Seemed Too Small On The Day
Monday, 11 January 2016, 13:36
The North Melbourne Cathedral needed to be bigger for the day. It was standing room only, many were outside. A quick survey of the Eparchial churches showed that most of our churches were full for the 7th January Christmas Day services. This is normal for Christmas and Easter attendance. Fr. Stefan Sapun of Brisbane said that he was very pleased with the increased presence of newly arrived Ukrainians. This was seen in most parishes.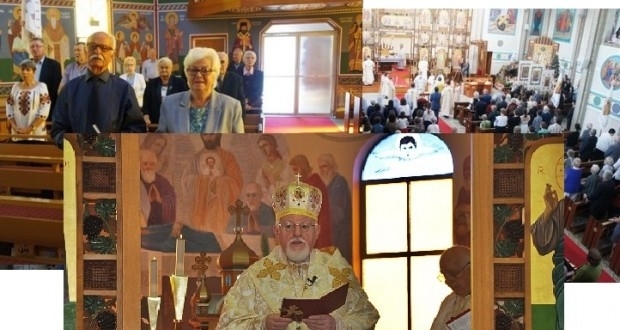 Bishop Peter stated that the increased numbers witnessed to the fact that we believe that the feast of the Nativity of Christ is very important in our people's lives. We believe that Jesus is the Son of God and that He has come into our world as a sign that God is with us.
The Bishop further stated that smaller numbers during the rest of the year indicated that there is a crisis of faith in our community. The church, he added, has to rededicate itself to teach the faithful on how they pray and how they live. He informed the people that the Catechism of our church, "Christ Our Pascha", has just been translated into English. It was first published in Ukrainian in 2011. It now exists in various languages. The Bishop pledged that every family in the Eparchy should have a copy of this Catechism in any language they require. It will then be an obligation of every priest, deacon, sister and lay person to unravel the depth of the teachings of our church.
In Geelong Bishop Peter told the faithful that along with the Catechism it was the obligation of each parish in the Eparchy to work on the implementation of each and every resolution which was approved by our church at the various meetings in 2015.
It will take hard work to fulfil these tasks but Bishop Peter said this is a positive step in the direction of working on the crisis of faith we presently have.
During the Christmas season Bishop Peter visited Geelong and Ardeer parishes as well.
Source:http://catholicukes.org.au/
PUBLICATIONS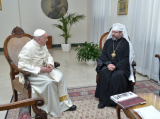 3 July at 10:00 AM, at Casa Santa Marta in the Vatican, Pope Francis met with His Beatitude Sviatoslav. The meeting was held at the request of the...
MEDIA