Audio CD for children about the life of the Patriarch Joseph (Slipyi) became accessible to everyone
Friday, 13 September 2013, 18:41
Audio edition that contains stories about the life of the Patriarch of UGCC Joseph (Slipyi), issued in 2012.
On the occasion of the anniversary of the Patriarch's death, which falls on September 7, 17 audio files are available for free download on the official website of Ternopil-Zboriv archdiocese www.tze.org.ua.
The designer was the foundation "Patriarch Yosyf's matter ", which operates in Ternopil-Zboriv archdiocese and the multimedia studio "Svichado" implemented the idea.
"Stories compiled in the form of a conversation between a grandmother and a granddaughter and will be extremely interesting for children and young people," - said the head of the foundation, Andriy Romankiv.
Press Service of the Ternopil-Zboriv archdiocese UGCC
PUBLICATIONS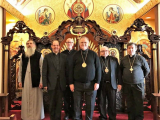 This is the way the rest of our entire life could pass us by. The problem is that we identify ourselves with our body and aspire to attain happiness...
MEDIA