Bishop Bohdan Danylo Visits Bishop Frank J. Dewane of the Roman Catholic Diocese of Venice, Florida (USA)
Thursday, 28 February 2019, 11:47
On Monday, February 25, 2019, Bishop Bohdan J. Danylo of the Ukrainian Catholic Eparchy of St. Josaphat in Parma paid a visit to Bishop Frank J. Dewane of the Roman Catholic Diocese of Venice, Florida.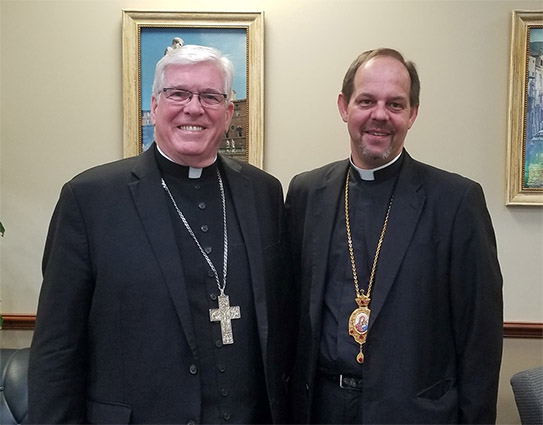 During the cordial meeting, the two hierarchs talked about the pastoral situation in their own dioceses, highlighting the most pressing ministerial needs.
In the course of the conversation, Bishop Dewane shared with Bishop Danylo some interesting aspects of his life before he became a priest and eventually a bishop. Bishop Dewane used to work for NBC, an American broadcasting corporation, and at one point he was stationed in Moscow, Russia, when the Soviet Union was still in existence. Living and working in the USSR gave him an opportunity to travel across the Soviet Union, including Ukraine, where he often visited Kyiv, Lviv, and other cities in Ukraine, hence, Bishop Dewane knows Ukraine quite well.
During the encounter, Bishop Danylo informed Bishop Dewane about the pastoral situation of the Ukrainian Catholic parishes in Southern Florida and asked Bishop Dewane for help in opening a Ukrainian Catholic mission in the city of Naples, Florida. Bishop Dewane gladly agreed to offer one of the Roman Catholic parishes in his diocese as a location for the new Ukrainian mission in Naples. As a token of appreciation, Bishop Danylo presented Bishop Dewane with a gift of a beautiful icon of the Exaltation of the Holy Cross and wished him a blessed Lenten journey.
Department of Information of the UGCC
PUBLICATIONS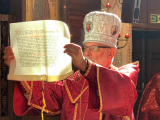 TO OUR BELOVED BROTHER IN CHRIST Most Reverend Bishop Kenneth Anthony Adam Nowakowski
MEDIA