Bishop Bohdan Dziurakh met with the clergy of the Apostolic Exarchate of Germany and Scandinavia
Friday, 05 March 2021, 11:19
"Thank you for the opportunity to make a spiritual pilgrimage to our parish communities," said Bishop Bohdan Dziurakh at his first meeting with the clergy of the Exarchate in Germany and Scandinavia.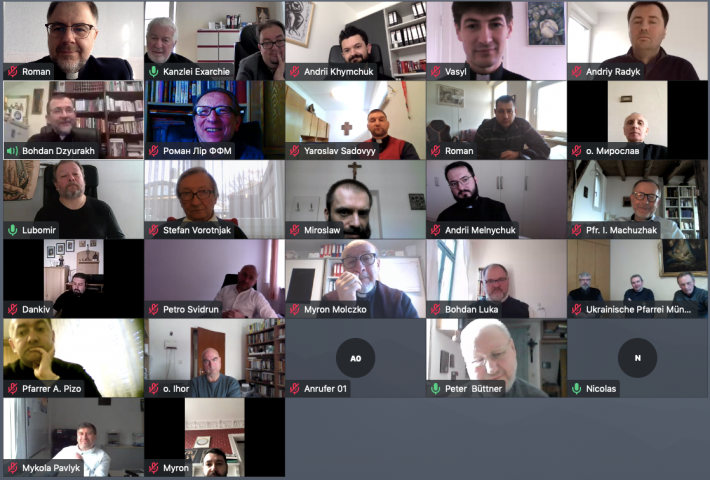 On March 3, 2021, the traditional monthly online meeting of the clergy of the Apostolic Exarchate in Germany and Scandinavia took place; for the first time it was attended by the newly appointed Apostolic Exarch. The meeting was chaired by his predecessor, and now the Apostolic Administrator, Bishop Petro Kryk. At the beginning of the meeting, Bishop Petro presented the most important moments in his pastoral ministry. In particular, he spoke in detail about the traditional meetings of the clergy, visits to parish communities, and social issues related to the life of the clergy.
Then the audience had the opportunity to listen to the spiritual lecture given by Fr. Mykola Fredyna.
In the second part of the meeting, the Chancellor of the Exarchate, Fr. Andriy Dmytryk gave the floor to the fathers, who in turn introduced themselves, their communities, and their ministry to the new Exarch. After that, Bishop Bohdan Dziurakh addressed the audience. He thanked Bishop Petro for his long service and assured him of further prayers. He also thanked for the opportunity to "make a spiritual pilgrimage to all parishes of the Exarchate" thanks to the stories of the fathers. Bishop Bohdan expressed hope for cooperation on the part of the clergy of the Exarchate, paraphrasing the words of St. Augustine: "For you I am a bishop, but with you I am a priest, a servant. So help me, dear fathers, to carry out my ministry in the best possible way."
Finally, the newly appointed Exarch asked the fathers to convey greetings from him to their families and parishioners and asked them all for a prayer.
Press service of the Apostolic Exarchate
PUBLICATIONS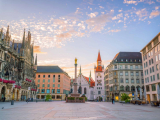 The enthronement of Bishop Bohdan Dziurakh as the Apostolic Exarch, which will take place on April 18, was an opportunity to talk about the...
MEDIA