Bishop Bohdan (Dziurakh): "The fallen heroes themselves stopped the evil so that it would not touch all of us"
Thursday, 27 February 2014, 15:16
"Today our hearts are full of pain, sorrow, and prayers. We look today at the faces of our friends, brothers and sisters - verified by their love. Because it is due to the love towards God and the native land, that they gave their lives. In studying the faces of our co-patriots, we ask ourselves, what assignment are they delegating to us, what testament have they left." This statement was made by Bishop Bohdan (Dziurakh), Secretary of UGCC Synod of Bishops, from the stage of the Maidan, today, on March 23rd, the Memorial Day for the fallen heroes of the Maidan.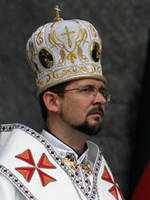 According to the bishop, "above all we have to remember and preserve in our hearts – an eternal memory, a memory of their heroic acts, about their sacrifices." Because they did not simply give their lives for the next meter of land here on the Maidan," said the Arch Hierarch, "they gave their lives for us and you. They themselves stopped the evil, so that this evil would not touch us, because we know what evil was pressed down on all the Ukrainian people."
They stopped the evil with the greatest price – their own lives. We have no right to ever forget this.
We have to remember them and pray for them not only in these days of sorrow and mourning, but always Secondly, what they ask of us," said the bishop, "is to direct our eyes towards God, towards God's commandments. "Because they stopped evil through themselves only because they had overcome evil in themselves. They made their conscious choice and chose to stand on the side of goodness and truth. Therefore, today they stand to the right of God, and remind us that it is only on the fundamentals of God's commandments that we can build a country of which we will be proud, a country which shows dignity towards people.
We have to turn with prayers towards God that He grants wisdom to the new leaders of the Ukrainian people, so that they do not neglect this commandment of God. Because the evil that has fallen on our people were caused by the fact that that God's commandment was disregarded," believes the bishop.
We should also pray, said Bishop Bohdan," that God will heal our wounds, that He heal the wounds of the parents who lost sons, fathers, family providers, that God heal the wounds of the maimed, the wounded, who now in all corners of the world are fighting for their lives.
He argues that there should be no room in our hearts for anger and revenge. The bishop urged all not to be indifferent, because indifference kills. "We have to solidify with needy people, with those who live in various towns and villages in Ukraine. The territory of the Maidan is the territory of truth, goodness, justice, and solidarity and it should spread throughout Ukraine," emphasized the bishop.
The bishop also urged Ukrainians to thank the international communities and Ukrainians throughout the world that supported Ukrainians. He especially thanked the doctors abroad who took our brothers and sisters to their countries for medical care.
UGCC Department of Information
PUBLICATIONS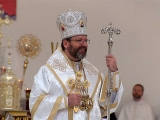 Can Easter be considered as a peculiar Christian holiday of victory and freedom of a human's will? Are we able through terrestrial examples...
MEDIA