Bishop Bohdan (Dziurakh): "War and peace begin in human hearts"
Thursday, 03 July 2014, 10:58
In the light of God's Word we can better understand the sufferings which have befallen us, our families, or our people. Bishop Bohdan (Dziurakh) , Administrator of the Patriarchal Curia, talked about this today, July 3rd, in the Patriarchal Cathedral of the Resurrection of Christ during his sermon at the Divine Liturgy for the staff of the Patriarchal Curia.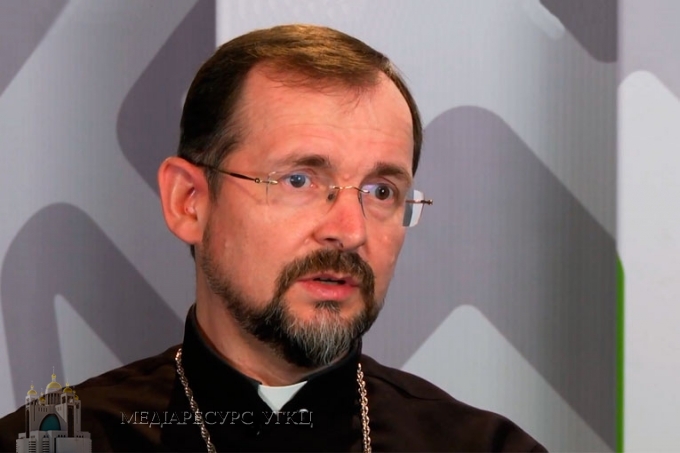 Bishop Bohdan asked all to remember that Jesus encourages us not only to come to Him. "His heart is the heart of God, capable of fitting in all the troubles and pains of all people, the whole humankind. Because it is the Heart of God. Therefore, let us not hesitate to bring to the altar of the Almighty the pains, worries, sufferings of other people," encourages the preacher.
The Bishop noted that one can bring "worries, the tiredness of our fellow citizens in Eastern Ukraine, who live in the shadow of death, in constant danger, because they are living during a state of war". "Let us pray and bring the worries of our government leaders who bear the great responsibility to make the right decisions from many possible variants. They need the gift of the Holy Spirit – the gift of advice so that they can make the only good decision which will serve the good of our people," said the Hierarch.
The Bishop also urges people to bring the worries, experiences, thoughts of our soldiers, who today are on the front lines, risking their lives, in order to protect your and mine lives.
"Let us also bring to the altar of the Almighty those people in whose hearts hatred, evil, and aggression have settled – our enemies. Because only God has access to their hearts," believes the Secretary of the Synod.
He is convinced that "both war and peace begin in the human heart." Therefore, he appeals to all to:"bring their hearts and place them in the Heart of Jesus, so that it can change them, turn them away from evil intentions and wishes."
UGCC Department of Information
PUBLICATIONS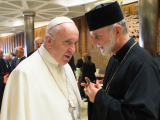 An unprecedented event took place in Rome on July 5-6. Desiring to demonstrate support for the Ukrainian Greek-Catholic Church at a time of...
MEDIA