Bishop Borys paid his first visit to the youngest Ukrainian parish in Flanders, Belgium
Friday, 28 December 2018, 14:36
On Wednesday, December 26, bishop Borys Gudziak visited newly built Ukrainian parish of Nativity of John the Baptist in Ghent, in the Flemish Region of Belgium.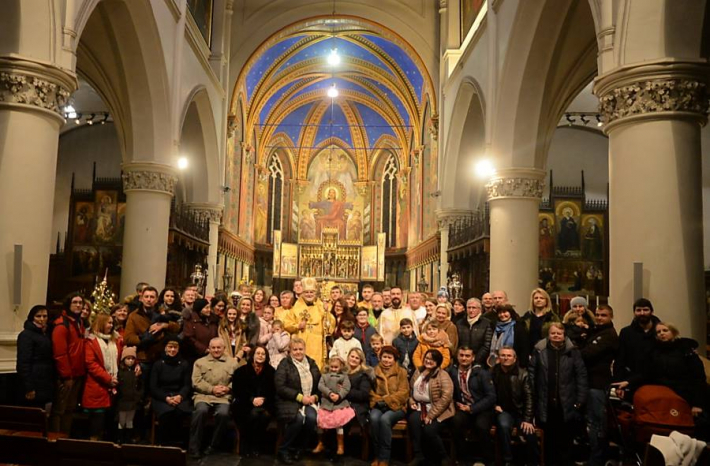 Its history goes back to this summer. Later, with the beginning of November Fr. Mykhailo Romaniuk, a protosyncellus of the eparchy brought official documents concerning the building of the parish and named Fr. Ivan Danchevskyi its senior priest.
In his homily bishop emphasized the uniqueness of Ghent's parish. He also said: "You, brothers and sisters are called to testify something what is incomprehensible. In XXI, when all are terrified of death, you are called to testify eternity. Where embarrassment, skepticism, dullness, "nothing impresses me any longer" exist you are called to bear Christ and joy of a sincere communication". He also thanked parents for their children's participation in the prayer, showing this example of how to establish this relationship with God.
At the end of the Liturgy the administrator of the parish Fr. Ivan Danchevskyi thanked bishop Borys for his visit and "father's care and prayers which you embrace our community with". The parishioners prepared a gift along with grateful words for Fr. Ivan's presence and service.
Bishop Hlib Lonchyna, bishop of Holy Family of London appealed to the present in church. He encouraged to pray and stand together. Hence, both of bishops who are also Plast members received Bethlehem fire of peace which had been brought for the parish of nativity of John the Baptist by scouts from Antwerpen.
ugcc.fr
PUBLICATIONS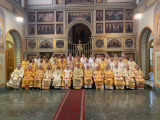 COMMUNION AND UNITY IN THE LIFE AND MINISTRY OF THE UKRAINIAN GREEK-CATHOLIC CHURCH
MEDIA