Bishop Glib took part in the prayer for deported to Siberia Estonians, Latvians and Lithuanians
Wednesday, 17 June 2015, 15:37
Each year, the Baltic Nations community in London organize ecumenical prayer in memory of their countrymen deported during the Soviet occupation. The prayer is carried out before June 14 because on this day in 1941 the NKVD began the mass deportation of Estonians, Latvians and Lithuanians.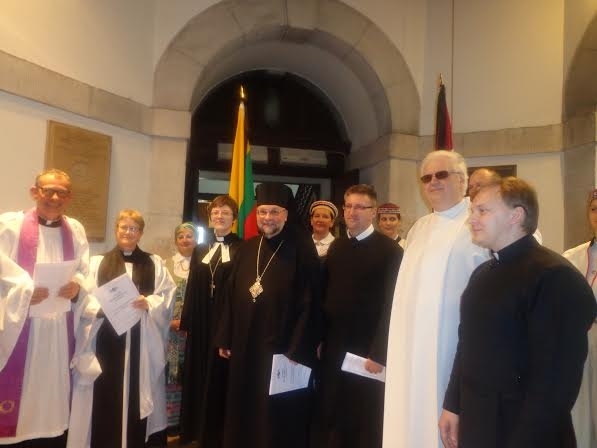 On Sunday, June 14, 2015, a joint prayer service was held in the church of Saint James Piccadilly. The Ukrainian Catholic Church was represented by Bishop Glib, the Bishop of Diocese of the Holy Family with its headquarters in London, Fr Irynei Kraychyi OSBM, Fr Mykola Stefanyshyn and Sister Iryna Khomyn, SSMI.
In the beginning there was a procession of clergy and bringing in the flags of three countries. Then the ambassadors of Estonia, Latvia and Lithuania, accompanied by prayers lit candles in memory of Stalin's victims. Then there were hymns, Bible reading and prayers in native languages ​​of these peoples. Sermon on the invitation of Latvian pastor, Eliza Zikmane, the organizer and conductors of the service, was made by Bishop Glib.
Bishop compared the tragic fate of the Baltic nations with a similar history of Ukrainian people. When asked how to understand the earth distress in the light of God's love, He told that St. Paul did not explain, just stated that Christ is present in our tragedies through the cross. He succumbed to evil, overcoming it with His goodness and love.
"Does this explanation change the tragic events of the past? – asked Bishop - Not at all. But it gives hope that the past will be important for us. When thinking of victims of inhuman cruelty, we not only sympathize the fate of our people, even our families, but we live in hope that helps us to become better, to give our lives for our neighbours, without succumbing the disaster of the world, but rather winning it with our love, our hope, our faith".
At the end of the prayer meeting, Bishop Glib gave His episcopal blessing to all present.
Press service of the Holy Family Diocese
PUBLICATIONS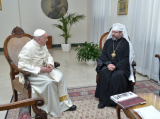 3 July at 10:00 AM, at Casa Santa Marta in the Vatican, Pope Francis met with His Beatitude Sviatoslav. The meeting was held at the request of the...
MEDIA