Bishop Joseph Milyan blessed a new iconostasis in Brovary
Wednesday, 13 February 2019, 22:09
"We tend to say that in this world not many things depend on us. Even the elections in Ukraine: everything does not depend on us only, but personally we can change a lot. And it is not true that a single man in a field is not a warrior. One person can make huge changes in both, the personal and public sphere", said bishop Joseph Milyan, Bishop-Auxiliary of Kyiv Archeparchy during a feast at the Church of the Three Saints in Brovary.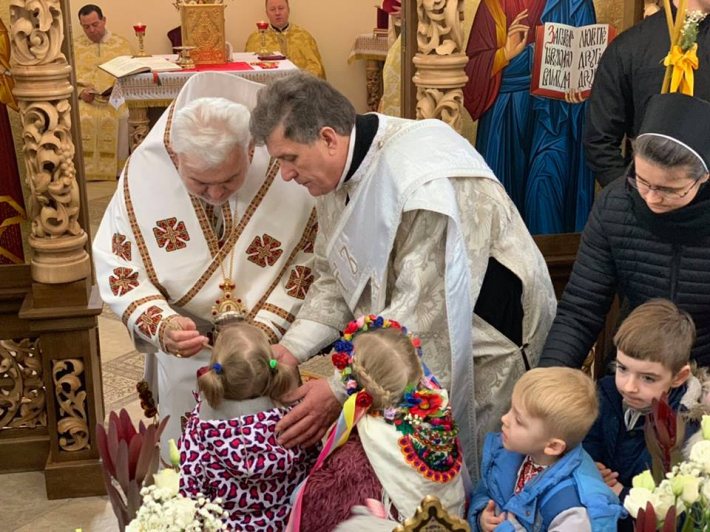 Today on the occasion of a parochial feast Bishop Joseph Milyan blessed a new iconostasis and led the Divine Liturgy. Priests of Kyiv and Vyshhorod joined Bishop Milyan headed by protopresbyter Oleh Panchyniak, a senior priest of UGCC community in Brovary.
In his homily the protopresbyter shared: "People accept everything with a sense of sight: an interlocutor, outside world. With our eyes we see that which is beautiful. This Iconostasis in Brovary is not just a masterpiece of sacred art or spiritual dimension, it is the written Gospel for us". While continuing, the bishop called for reflecting on how we appreciate and keep our soul pure and holy. "God always knocks at the door of our heart. Whether we are ready to let God in our souls depends on us. To let God in is an example of being as Zacchaeus, wishing to change our life", archbishop said.
In conclusion, bishop extended best wishes to all with the words: "Today I congratulate your noble community along with the priests. The blessing of this iconostasis being a prayer of gratitude that all of you be accepted by God, so you can grow closer to Him and sin cannot obscure your faces".
Press-Service of Kyiv Archeparchy
PUBLICATIONS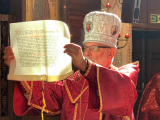 TO OUR BELOVED BROTHER IN CHRIST Most Reverend Bishop Kenneth Anthony Adam Nowakowski
MEDIA