Bishop Joseph (Milyan): Our Church does not allow our priests to run for any level of governmental office
Thursday, 21 October 2010, 20:03
During a press conference in Kyiv, Bishop Joseph (Milyan), auxiliary bishop of the Kyivan Archeparchy of the UGCC, reported that the Ukrainian Greek Catholic Church does not allow its priests to run for any level of governmental office. He reminded that the decision on priests' participation in the electoral process was passed in 2004 during the Twenty-Third Session of the Synod of Bishops of the Kyiv-Halych Metropolitanate of the Ukrainian Greek Catholic Church in Resolution № 7. "I can say why our priests do not go to elections," stated Bishop Joseph. "Today the electoral process is the party. In such case a priest joins a certain party. And this can lead to split in the parish."
During a press conference in Kyiv, Bishop Joseph (Milyan), auxiliary bishop of the Kyivan Archeparchy of the UGCC, reported that the Ukrainian Greek Catholic Church does not allow its priests to run for any level of governmental office. He reminded that the decision on priests' participation in the electoral process was passed in 2004 during the Twenty-Third Session of the Synod of Bishops of the Kyiv-Halych Metropolitanate of the Ukrainian Greek Catholic Church in Resolution № 7. "I can say why our priests do not go to elections," stated Bishop Joseph. "Today the electoral process is the party. In such case a priest joins a certain party. And this can lead to split in the parish." At the same time, in the opinion of Bishop Joseph, priests do not directly participate in pre-election events when they lead prayer at certain gatherings where the faithful of their church are present. "To refuse from prayer is not possible because among these people are Christians, and to pray is one of the main tasks of the pastor," said the bishop. In the press conference "Why do clergymen take part in elections?" which took place on October 19 in at the Glavkom agency, also participated the priest Hryhoriy Kovalenko, the head of the Synodal Information and Education Department of Ukrainian Orthodox Church-Moscow Patriarchate, and Dmytro Stepovyk, doctor of theology, professor of Kyivan Theological Academy of the Ukrainian Orthodox Church-Kyivan Patriarchate.
Information Department of the UGCC
PUBLICATIONS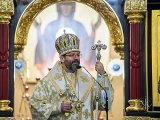 Head of the Ukrainian Greek Catholic Church brings multifaceted experience to project of evangelization.
MEDIA