Bishops of the Synod celebrated a Divine Liturgy in the Cathedral of Sts. Volodymyr and Olha in Winnipeg
Thursday, 13 September 2012, 09:42
"We perceive the arrival to Canada of Blessed Mykyta Budka as the establishment in this country of the Ukrainian Greek-Catholic Church with its unique pastoral structure and historically Christian identification. Blessed Mykyta – the first UGCC bishop in Canada became one who protected Ukrainians in this land, in fact, he was their unique social and political voice at the beginning of the last century. He also became a unifying figure for all those Ukrainians who were dispersed far and wide on this beautiful land, which had became their home," stated His Beatitude Sviatoslav at the Liturgy in the Cathedral of Saints Volodymyr and Olha in Winnipeg (Canada) on September 9, 2012.
According to UGCC Primate, Christ is present in the Church through His Mystical Body and makes us part of the Christian family during each Liturgy, which is a mark of the New Testament. "Through the sacrament of the Eucharist He shares His inner flame with us, therefore we should be happy in that through this we share with Him the Heavenly Kingdom, said UGCC Head.
His Beatitude Sviatoslav also noted that the UGCC  Synod of Bishops is taking place in Canada not by chance. The Heavenly Father sent his hierarchs here so that they would gather all to come and participate in the banquet of the Heavenly Father.  The Church Primate thinks that coming to this banquet means not only to stand before God, but to actually become a member of His Church. "In celebrating this Divine Banquet today and commemorating the UGCC centennial of existence in Canada, our Church wants to invite all inhabitants of this country – Ukrainians and non-Ukrainians --to become the sons and daughters of God" announced the Primate. Furthermore he believes that the UGCC Bishops present here are encouraging everyone to renew their faith and to re-discover for themselves once again the spiritual treasure of UGCC in Canada. And this also means, to live a real Christian life and to grow in holiness.
Finally, the UGCC Head spoke about his predcessor, Metropolitan Andrey (Sheptytsky) since "… it was because of his fatherly concern that  our people in Canada received their first  missionary priests." Metropolitan Andrey never forgot his children in this land and it was thanks to him that the first Ukrainian bishop did arrive in Canada.  He also reminded the audience that in 1910, Metropolitan Andrey visited Canada and upon his return to Ukraine in February 1911, he composed a renowed "Epistle to Rusyns-Ukrainians in Canada," supporting them and thereby giving them hope. The epistle states: "Be forever grateful to the country which accepted you and offered you the possibility of a new, broader and better life, but do continue to preserve all good Ukrainian traditions."  Metropolitan Andrey ended the epistle with the thought, "In all tasks and efforts, above all, try to get help from heaven."
"We greet you in the name of the whole UGCC and we remind you that you are members of Christ's large family, which remembers you, loves and supports you," concluded UGCC Head.
After the Liturgy, Bishop Bohdan (Dziurakh), Secretary of the Synod of Bishops, read the "Decree of His Beatitude Sviatoslav on the Convocation of the Synod of Bishops in Canada."
UGCC Deparment of Information
PUBLICATIONS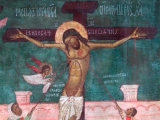 "Open to me the doors of repentance, O Giver of Life. As we worship in Your temple this morning, teach us how to purify the temple of our...
MEDIA