Bishops of the Synod of UGCC prayed for peace in Ukraine before the Not Made with Hands Image of Jesus Christ
Saturday, 31 January 2015, 16:45
On 30 January, 2015, His Beatitude Sviatoslav, the Head and the Father of the UGCC together with the Bishops of the Synod coserved the Evening Service in St. George's Cathedral, after which opened to public veneration the Not Made with Hands Image of Jesus Christ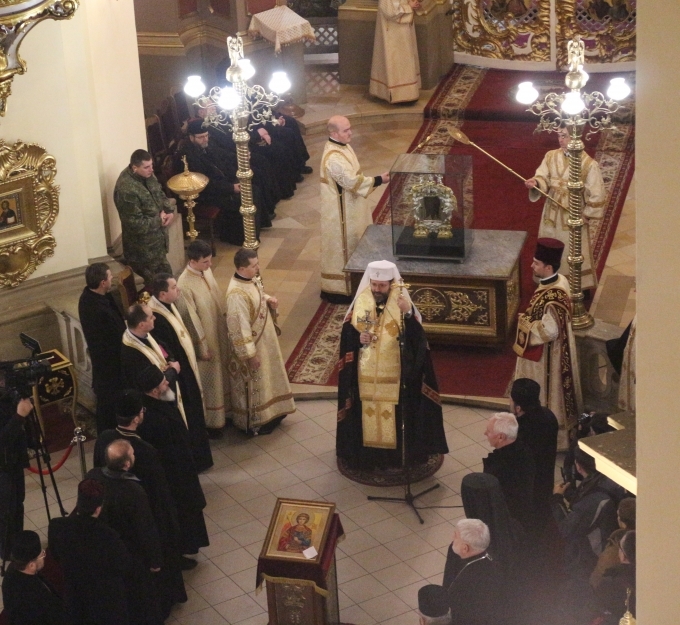 At the beginning of the Worship the Primate of the Church said that the Ukrainians today have a unique opportunity - to "see God's face". According to Him, the Not Made with Hands Image of Jesus Christ - a unique relic of the times of earthly life of the Savior: "Jesus Christ took this cloth personally into His hand and pressed to His face. So that is why it is called miraculous and not made with hands. With this cloth He healed the Ephesian king from leprosy".
"We are so looking these days for God's face! And see that God does not just turn to us His face. He lets us to kiss Him"- He added.
According to the Head of the UGCC, this event is incomprehensible Divine Providence. After all, "in this historical moment, shining on us, the face of God reveals Himself to us". "The great sign of God's blessing and support is the fact that today, for the first time in a hundred years, from the Holy See, from St Peter's Basilica, the Image of Christ came to us. Thanks today to our God-Father for His love to our people and the Savior - Jesus Christ, who today with the Holy Spirit makes His face open to us"- added the Preacher.
At the end the Head of the Church on behalf of the UGCC thanked the Holy Father Francis for his blessing that this relic arrived into Ukraine: "This is another gesture of papal support, solidarity and blessing for our nation. However, this is a great sign of hope. Therefore come near to this icon and let us pray".
He also called on all those who come to worship the image, "to become guardian angels who day and night pray for Ukrainian army". "Let us pray for those affected and left without home, for the wounded and those in captivity, who die of hunger and cold, because they are not given today this kindness that today we have in this temple. I urge all our church to relentless prayer for Ukraine!"- concluded the Head and the Father of the Church.
We have to add that the Not Made with Hands Image of Jesus Christ will be dwelt in St. George's Cathedral for two weeks (January 30 - February 15).
UGCC Department of Information
MEDIA