Blessed Pope John Paul II gave a chalice as a gift to the Patriarchal Cathedral of the Resurrection of Christ in Kyiv
Monday, 12 August 2013, 15:22
During the first working session of the UGCC Synod of Bishops in Kyiv, a symbolic act took place. Bishop Vasyl (Medvit), Auxiliary Bishop of Donetsk-Kharkiv Exarchate, passed on to the Patriarchal Cathedral of the Resurrection of Christ in Kyiv a chalice and a service book which was used during Liturgy in the sports complex Chayka by Blessed Pope John Paul II. At that time the Bishop was in charge of the construction of the Patriarchal Cathedral.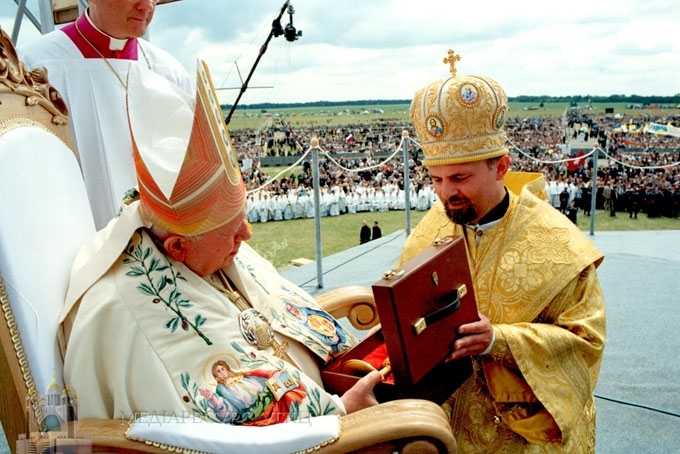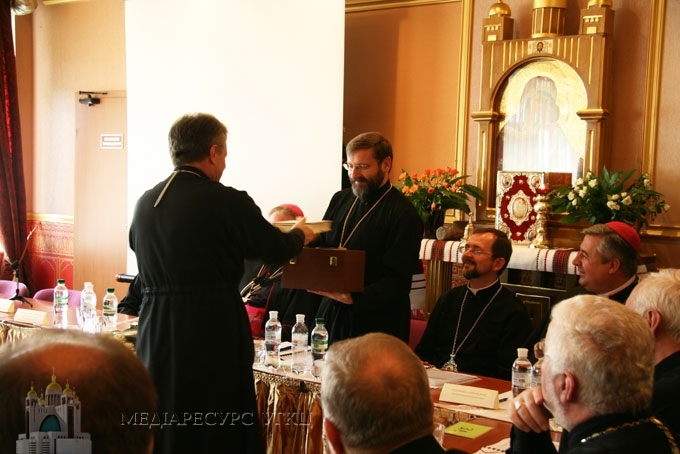 According to Bishop Vasyl, after the Liturgy, the Holy Father called him and said: "I heard that you are responsible for the construction of the cathedral in Kyiv. Please accept this chalice, so that when you bless the cathedral, you can use it for celebrating the Divine Liturgies there."
As His Beatitude Sviatoslav noted , "now is the moment when Bishop Vasyl showed us these Papal gifts and fulfilled the testimony of Pope John Paul II, passing these on to the Patriarchal Cathedral." "This is a special relic which we will cherish with trepidation and great care. This year, maybe, will coincide with the year of the canonization of Pope John Paul II," emphasized UGCC Head.
UGCC Department of Information
PUBLICATIONS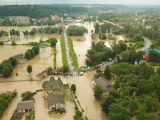 Your Graces and Excellencies, Very Reverend and Reverend Fathers, Venerable Brothers and Sisters in monastic and religious...
MEDIA