Cardinal Christoph Schoenborn met with the Prime Minister of Ukraine
Wednesday, 10 December 2014, 11:54
On Wednesday, December 10, Cardinal Christoph Schönborn, the Papal Legate, who came to celebrate the 25th anniversary of the release of Ukrainian Greek Catholic Church from the underground, met with Prime Minister of Ukraine Arseniy Yatsenyuk.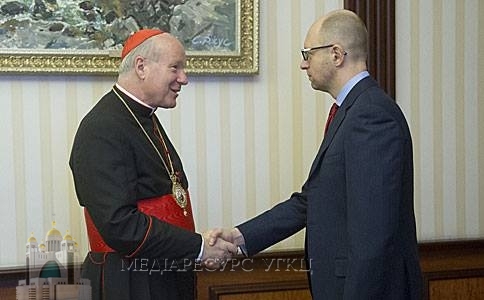 The Head of the Ukrainian Greek Catholic Church His Beatitude Sviatoslav and Apostolic Nuncio in Ukraine, Archbishop Thomas Edward Gullickson were also present at the meeting.
Yatsenyuk stressed that he highly appreciates the visit of Cardinal Christoph Schönborn to Ukraine.
"We felt and feel the support of the Catholic Church in our struggle for independence, territorial integrity, freedom and rights. I appreciate your efforts in supporting Ukraine", - said the Prime Minister.
He recalled his meeting with Pope Francis in April: "I know that His Holiness repeatedly uttered a prayer for Ukraine. We really appreciate it".
Arseniy Yatsenyuk stressed that Ukraine is in a difficult situation now, "but with God's help and the help of the Church we shall overcome it".
The Prime Minister pointed out that the freedom of religion is one of the basic values to Ukraine. According to him, the Church and religious organizations in Ukraine "found a way how to coexist together and respect each other".
"We have a real unity, despite the fact that some people try to use religion as a tool of political influence", - stressed Arseniy Yatsenyuk.
PUBLICATIONS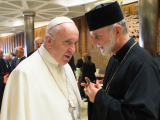 An unprecedented event took place in Rome on July 5-6. Desiring to demonstrate support for the Ukrainian Greek-Catholic Church at a time of...
MEDIA