"Cardinal Josef Glemp was the Herald of Reconciliation," UGCC Head
Tuesday, 29 January 2013, 09:03
On Saturday, January 26th, in the Basilica Santa Maria in Trastevere in Rome, the Community of St. Elhidiya and the Polish community gathered for a memorial Requiem Divine Liturgy, leading in prayers the last journey of Cardinal Josef Glemp, Polish Primate. The deceased hierarch was the titular cardinal of this Basilica.
The Liturgy was led by Msgr. Vincenzo Paglia, Chaplain of St. Ehidiya Community and Head of the Pontifical Council for the Family.  Concelebrants were: His Beatitude  Sviatoslav (Shevchuk), UGCC Head, and  Archbishop Zygmunt Zimowski, Head of  the Pontifical Council for Pastoral Assistance to Health Care Workers.  Present at the Liturgy were: Cardinal Zenon Grocholewski, Prefect of the Congregation for Catholic Education, Hanna Suchocka Ambassador of the Polish Republic to the Apostolic Sea, and numerous clergy, monastic orders and faithful.
In the name of UGCC hierarchs, clergy, and faithful, His Beatitude Sviatoslav expressed condolences to the Polish people and the Polish Catholic Church on the passing into eternity of their Primate.  In his message, he particularly highlighted "Today I feel my obligation to join in farewell prayers with Polish brothers and sisters for the recently departed Cardinal Josef Glemp -- the Apostle of Reconciliation.  His Beatitude in eternal memory Cardinal Josef was the Herald of Reconciliation not only for the Polish nation during its transition from communist totalitarianism to a democratic state, not only between German and Polish bishops, but also between the Ukrainian Greek-Catholic Church and Bishops of Poland , the peoples of Ukraine and Poland.  In praying for eternal rest for Bishop Josef, we ask the Almighty that the bishop's spiritual heritage will beget a harvest of sincere dialogue, forgiveness and reconciliation among Christians in Eastern Europe."
UGCC Department of Information
PUBLICATIONS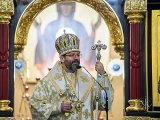 Head of the Ukrainian Greek Catholic Church brings multifaceted experience to project of evangelization.
MEDIA