Cardinal of the Roman Catholic Church of Australia, George Pell, supports the Ukrainian people and EuroMaidan
Thursday, 02 January 2014, 14:00
In his letter the Cardinal stated that he is praying to God that the wishes of the people be fulfilled, that the representatives of the authorities open their hearts to God and respect human rights and the principles of democracy.
The Cardinal noted that Ukraine has already several times undergone trying difficult times and has been tested, but in the end the faith of the people was always victorious.
"We pray for those people who are standing on the Maidan, that they have the strength to persevere and protect the principles of truth," said Cardinal George Pell.
http:www.chasipodii.net
PUBLICATIONS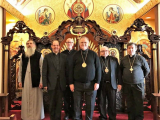 This is the way the rest of our entire life could pass us by. The problem is that we identify ourselves with our body and aspire to attain happiness...
MEDIA