Caritas Ukraine assists women who are victims of family violence
Thursday, 27 December 2012, 18:41
Caritas in Sambir-Drohobych Eparchy has initiated a new project -- Assistance to Women, Victims of Family Violence in Remote Lviv Regions. The project includes individual consultations offered by a psychologist (Monday-Friday: 9 am- 4pm); group meetings (every Thursday at 4pm with a psychologist and a social worker); telephone consultations; excursions.
This activity is financially supported by the international charitable organization Ukrainian Women's Fund.  Already some 18 women of various ages and social status have sought services.  The issue of family violence unites them. They gather in group meetings to confront the issues of family violence which rules their families and eventually destroys them.  Seven women have sought individual counseling, feeling that they first have to talk about their painful experience privately, before being able to share these in a group.  All individual and group meetings are confidential, since safety and protection are priorities in this field of counseling.
Caritas representatives state that one of the complicated factors in dealing with family violence is that only a small percentage of women are able to admit this as their problem and want to change something in their lives.  Therefore Caritas has identified two main goals: to assist women in admitting that family violence is a problem in their family and to help them in dealing with it.
Meetings are held in the Caritas office:  4 Chornovil St., rm. 32 in Drohobych. More information is available by phone: 098-457-1199 (request Iryna Slavych).
UGCC Department of Information
PUBLICATIONS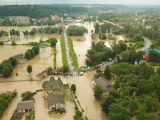 Your Graces and Excellencies, Very Reverend and Reverend Fathers, Venerable Brothers and Sisters in monastic and religious...
MEDIA