Catechetical Commission of Przemysl and Warsaw archdiocese dealt with the permanent formation of catechists
Tuesday, 10 September 2013, 15:29
On Friday, August 30, the Catechetical Commission Przemysl and Warsaw archdiocese met. The purpose of the meeting was to draw up a work plan and coordinate catechetical events, which are held in the archdiocese. The Catechetical Commission meets at least once a year.
Father Ivan Laykosh, the Chairman of the Commission, briefly presented the work plan. Then the previous meeting minutes were read. Subsequently, the Commission got acquainted with the letter of Bishop Petro (Stasiuk), the Head of the Patriarchal Catechetical Commission of the UGCC, to the catechists on the occasion of the Catechist Day.
After a brief discussion, the Communique of the Conference of the Episcopate of Poland on the teaching of ethics in schools was announced. The Commission declared the results of the action of rewriting of Scripture. The participants identified the timing and the themes of the contests and surveys. Particular attention was devoted to the catechetical training program, which is now under development to submit it timely for approval by the relevant state authorities.
The permanent formation of catechists was also discussed. It was also proposed to hold a day of spiritual renewal for catechists and teachers in October. In addition, on the feast day of the Holy Virgin, on the 14th of October, which is also the Teachers Day it was planned that catechists and teachers would make ​​a pilgrimage to the parish of the Holy Virgin in Olsztyn. All the issues raised by the Commission will be presented at the meeting of catechists, which will be held on the 7th of September in Gurov - Ilavetske.
Fr. Pavlo Potochnyj
PUBLICATIONS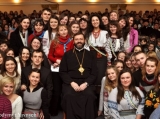 If, therefore, the Son sets you free, you will be free indeed. Jn 8:36
MEDIA