Children from the orphanage "Pokrova" sing a song about Saint Nicholas
Sunday, 25 November 2012, 10:50
The song about Saint Nicholas was being sung for the interactive contest "Oh, who, who likes Saint Nicholas" by the children of the family-type children's home "Pokrova". The Sisters Servants of Mary Immaculate are taking care of the Zolochiv Orphanage for already 5 years.
As it was reported by the mentor of the young members of the orphanage, s. Martyna Kostak, her students attend the general educational institution - "The School of Joy", which is in Zolochiv, and during their free time they devel their skills in diverse directions. Three children go to music school for piano and bandura classes, two go to the dancing classes, three master tailoring skills. When at home, they all together have additional classes of English language with the teacher, weave, embroider and study variety of culinary secrets in the home kitchen. Children are eagerly waiting for Saturdays, when they will have the possibility to listen to the new "story" of the Lord. In a special way, the catechization is conducted for orphan children by the mentor of the local parish, Father Mateus.
But the greatest pride of the house "Pokrova" is the God's grace, which mounted the two inmates of the orphanage, children suffering from the infantile cerebral paralysis. Currently, as sister Martyna reports, children are being diagnosed only for the remainder of the horrible disease. What preceded this joyful news was the daily work of rehabilitation. Sisters make all the possible efforts, to help two children with congenital visual impairments recover.
Additional information regarding the House "Pokrova" can be found in the television spot following the link: ugcc.tv/ua/media/54806.html
We welcome everyone to see the performances of other contestants: ugcc.tv/ua/media/konkurs_mykolaj/
ugcc.tv
PUBLICATIONS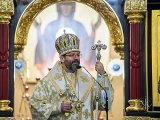 Head of the Ukrainian Greek Catholic Church brings multifaceted experience to project of evangelization.
MEDIA